4 November 2012 Edition
Patrick 'Paddy' Quinlivan, Limerick City
Fógraí Bháis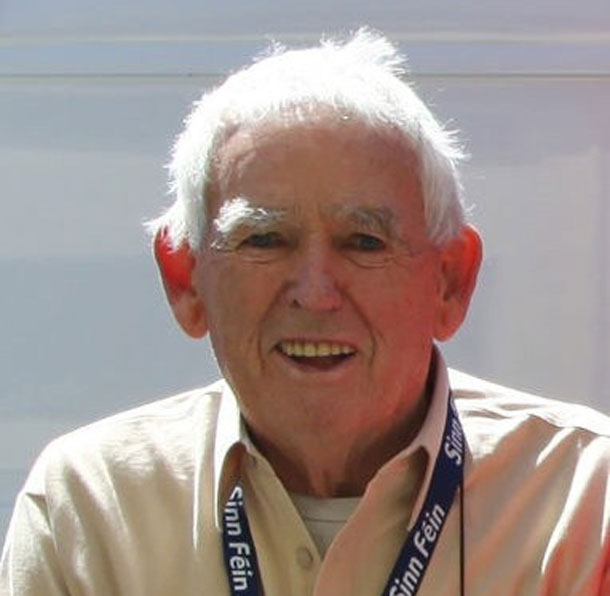 LIMERICK CITY lost one of its most stalwart republicans with the death of Paddy Quinlivan on 11 August aged 83.
Paddy was well-known in fishing and game circles and was a past President of the Limerick and District Anglers' Association. He was also a keen boating enthusiast and was President of both the Barrack Lane Boat Club and the Kilkee Boat Club, which operated out of his beloved Kilkee in west Clare. For many years he worked in Ranks Flour Mills on the Dock Road in Limerick where he was widely recognised as a valued work colleague and a committed trade unionist.
For over five decades, Paddy was an active and committed republican. The home in Ballynanty Beg that he for many years shared with his wife Marie and their family was a byword for support and hospitality among republicans throughout Ireland. 
Like Marie, Paddy came from a strong republican family background dating back over a hundred years and this tradition remains alive and well in the Quinlivan family today. Two of his sons came to national prominence for their republican activities: Nessan, along with Pearse McCauley, broke out of Brixton Prison in England in 1991; and Sinn Féin Councillor Maurice Quinlivan, whose legal dispute with local Fianna Fáil heavyweight Willie O'Dea TD led to the latter's resignation from the Cabinet in 2010.  His daughters Siobhan, Eimear and Cliona have also been well-known for their republican activism over the years.
The funeral, in accordance with Paddy's wishes, was a completely secular affair and was attended by family and friends from near and far, including many republicans from all over Ireland.  In traditional Limerick fashion, a large crowd walked with the hearse from his home in Thomondgate to Mount St Laurence Cemetery. At the graveside, a moving ceremony was held that paid tribute to the many aspects of Paddy's active and full life.