4 November 2012 Edition
Sheila McKenna, Monaghan
Fógraí Bháis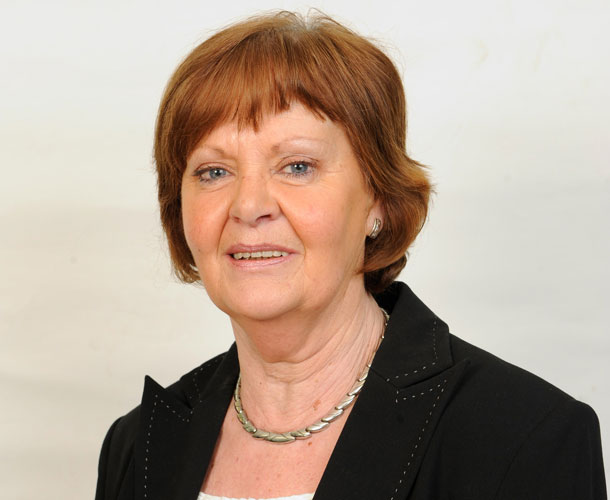 THERE was a large turn-out at the funeral of Sinn Féin Monaghan County Councillor Sheila McKenna as people from her beloved Scotstown, Knockatallon and Tydavnet were joined by her many friends and associates from throughout County Monaghan and further afield to pay a fitting tribute to a popular and brave public representative who lost a battle with cancer.
A member of Monaghan County Council from 2001 to 2004 and from 2009 until her death, Sheila was also a long time member of County Monaghan VEC as well as numerous community and voluntary organisations.
Several thousand mourners visited Sheila McKenna's home to pay their respects and to commiserate with her husband Eddie, daughter Gráinne, son Dara and their extended families.  
Sheila's Tricolour-draped coffin was taken from her home at Carrachor for her final trip to St Mary's Chapel, Urbleshanny. Her coffin was flanked by a republican guard of honour, led by her six fellow Sinn Féin members of Monaghan County Council and including Oireachtas members Caoimhghín Ó Caoláin TD and Senator Kathryn Reilly as well as a large number of Sinn Féin members from the north Monaghan area.  
At Urbleshanny, the funeral cortege was met by guards of honour comprising members of Tydavnet Faith and Light, Emyvale Cycling Club, Scotstown GAA and the Tydavnet Show Committee.
Cavan/Monaghan TD Caoimhghín Ó Caoláin described Sheila as "a true republican - steeped in the tradition of Wolfe Tone, of Pearse and of Connolly and avowedly anti-sectarian".
Caoimhghín detailed Sheila's extensive role in the electoral rise of Sinn Féin, including the 1981 general election success "of our Hunger Strike TD Kieran Doherty; the 1982 candidature of her dear friend and neighbour and prisoner candidate Volunteer Seamus McElwain, who later gave his young life in the cause of Irish freedom", and in all the general election contests since.
Caoimhghín recalled with an affectionate smile how Sheila played her part in the escape from Crumlin Road Prison in Belfast in June 1981.
"Little did Joe Doherty and Angelo Fusco know when they got in and closed the door on the Hillman Imp that picked them up at the border that, having battled their way out of the 'Crum' and successfully avoided all the combined forces of the British crown as they trekked their way towards County Monaghan, their lives were now in greater danger than at anytime since they mounted their escape operation. They soon learned. After all, Sheila McKenna was at the wheel. What an experience!"
"We salute the life of Sheila McKenna, we cherish the memories and we thank her family for sharing so much of Sheila with all of us and with all whose lives have been touched by her great spirit and dedication to service."