4 November 2012 Edition
Maureen Maguire
2012 Dublin Volunteer Annual Dinner Dance honouree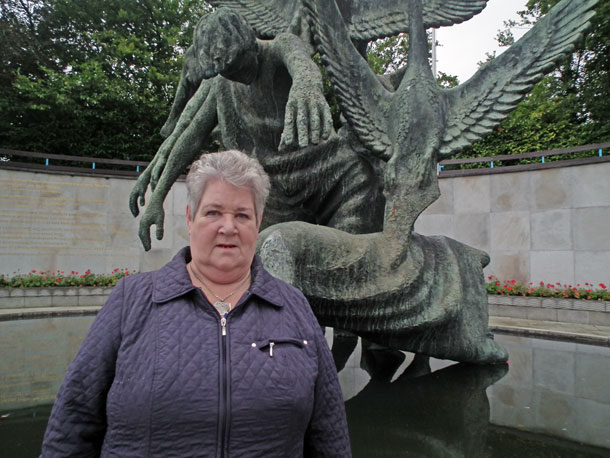 Amongst the many prisoners whom Maureen became close to was Frank Stagg, who died on hunger strike in Wakefield Prison on 12 February 1976. "Frank," Maureen says with huge affection, "was a real gentleman."
MAUREEN MAGUIRE is one of those people that the Republican Movement has always relied on — there to do the day-to-day basic yet important tasks and also be there to do what's necessary in emergencies, particularly in a hostile environment like England in the 1970s, 'in the belly of the beast'.
Maureen was a prominent figure in the Movement in London for the turbulent and repressive decades of the 1970s and part of the 1980s, when "the cutting edge" of the IRA campaign in England was at its sharpest. She is well-known to dozens of former prisoners in England and their families, many of them having stayed in her home or contacts of hers. Her strong north London accent makes her stand out from the crowd even if her no-nonsense attitude doesn't make an impression on you.
Having left England 30 years ago, Maureen now lives in Dublin's North Strand neighbourhood, where she is still as active as ever in Sinn Féin and local community groups such as the Docklands Senior Citizens Group, even at the unashamed age of 76.
WAR YEARS
Maureen was born in 1936, just before the outbreak of the Second World War in 1939. Her mother, Margaret (from Cork) and father, John (from Mayo), had met in London after John had come over from Ireland to join the local IRA unit run by his brother, Maureen's uncle. (The only picture of her father that Maureen could find in later years was a police 'Wanted' image.) By the time that the Second World War had started, the parents had split up and Maureen was evacuated as a 'war child' at the age of three or four from Walthamstow in east London to a Catholic convent in Bedford, 50 miles away in the east of England.
She returned to London after that war ended. Later she "first came back to Ireland to see the family – I never regarded myself as English, always Irish".
Maureen was raised in London by her mother, a trade union activist. They moved to Islington. "My mother used to take me to Speakers' Corner in Hyde Park to listen to people from all over the world, talking about politics and colonialism, etc. If there was any demonstration about anything we'd go. I remember – I must have been around 13 – being on a picket with my mother calling for the repatriation of Roger Casement's remains from Pentonville Prison to Ireland.
At the age of 15, Maureen became a member of the Young Communist League and even travelled to a youth festival in the German Democratic Republic (East Germany) before joining the Connolly Association.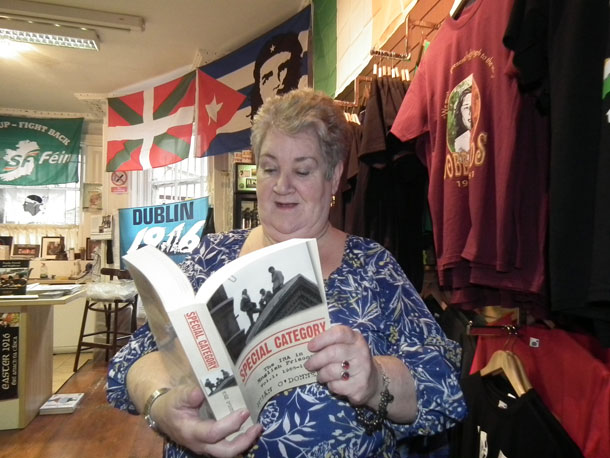 • Inside story: Maureen is prominent in Dr Ruan O'Donnell's ground-breaking book, 'Special Category : The IRA in English Prisons, Volume 1, 1968-1978'
PRISONERS
Moving to Tottenham, Maureen then joined the Labour Party. When internment was introduced in the Six Counties in 1971, Maureen helped set up the Haringey branch of the Anti-Internment League, where she first met Rose Dugdale.
In 1972, Maureen was in Ireland, visiting Chris's family in Longford, when Bloody Sunday erupted and 14 anti-internment marchers were shot dead by the British Army's Parachute Regiment. "It was the first time that I really sat down and thought 'What the hell is going on?'"
When she went back to England, she raised Bloody Sunday and the aftermath at her Labour Party branch, where she was ward secretary. "I just thought, 'We're Irish and what are we doing about it?'"
What she did about it after getting put out of the Labour Party was to join Sinn Féin. "Our cumann in north London had about 70 people, mostly men and very few women. Because I had the experience of being a ward secretary in the Labour Party, I was involved in a lot of the writing and lobbying, especially regarding the prisoners."
After the IRA planted four car bombs in London on 8 March 1973, one of which exploded at the Old Bailey and the other at police headquarters at Scotland Yard, 'The Belfast Ten' (including Sinn Féin junior minister Gerry Kelly and the Price sisters) were arrested. Maureen became a lynchpin in the support network needed to look after the republican prisoners and their families, constantly harassed by the prison authorities and police Special Branch.
Amongst the many prisoners whom Maureen became close to was Frank Stagg, who died on hunger strike in Wakefield Prison on 12 February 1976. "Frank," Maureen says with huge affection, "was a real gentleman."
Many of Maureen's old comrades will be in Dublin on 24 November and anyone who would like to attend what will no doubt be a memorable occasion are asked to contact Sinn Féin.