4 November 2012 Edition
Chumbawamba: Christy Moore was a huge influence
'Tubthumping' band says farewell to Irish fans in an interview with An Phoblacht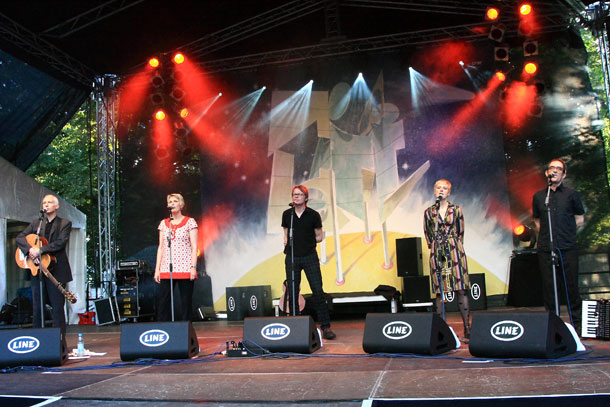 "We came from a youthful, punk, rebellion background but we grew up politically from the punk era. Rather than just stand there and talk about how much we hate the system, we tried, in our way, to do something to change it."
CHUMBAWAMBA, the "anarcho punk" band best known to many people for the bouncy party anthem Tubthumping, are closing down – but they might get up again.
Chumbawamba are calling it a day after 30 years on the indy and anarchist music scene in a colourful career whose highlights include an appearance on Top of the Pops and (more importantly) Féile an Phobail/West Belfast Festival in 2009 as well as topping the charts in Australia, Canada and New Zealand, and making it to Number 6 in the US and Number 2 in Britain.
What's less-well-known (i.e. ignored or glossed over by the Establishment media) is the band's commitment to helping grassroots community and trade union activism, including the miners' strike in Britain.
"That's it then, it's the end," the band says on its official website. "With neither a whimper, a bang, or a reunion."
The band holds out a very thin ray of hope for fans of a comeback as they go their separate ways to explore other avenues in music, TV and film scriptwriting and various other activities.
"We do, of course, reserve the right to re-emerge as Chumbawamba doing something else entirely (certainly not touring and putting out albums every two or three years)," they say, "but, frankly, that's not very likely. Thirty years of being snotty, eclectic, funny, contrary and just plain weird. What a privilege, and what a good time we've had."
The ever-present ALLAN 'BOFF' WHALLEY (vocals, guitar, ukelele and clarinet) spoke to JOHN HEDGES about their turbulent, tubthumping three decades since 1982 beating the drum for fun and giving another dimension to political action in words and music.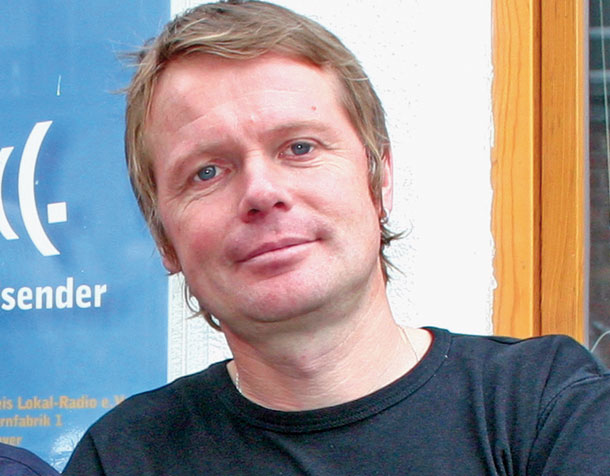 "WHEN WE STARTED it was during the Falklands War, the reign of Margaret Thatcher and a lot of trade union stuff, strikes, poverty, boredom and attacks on the communities we come from – working-class communities in the north of England – was going on.
"We came from a youthful, punk, rebellion background but we grew up politically from the punk era. Rather than just stand there and talk about how much we hate the system, we tried, in our way, to do something to change it."
With its roots in the Lancashire town of Burnley but based in Leeds in Yorkshire, the band's really big break was in becoming a firm favourite of the late John Peel.
"John Peel always played our records. To us that was the most important part from the music side of things." And getting the nod of approval from such a revered and respected figure in Britain's music industry obviously helped the band break down the barriers.
Boff doesn't care for or about people putting labels on Chumbawamba.
"By the time someone had pinned any kind of label on us at any point we'd probably moved on to something else. When we'd made our first record, I think we stood outside the anarcho-punk thing. Our third album (in 1988) was an a capella folk album, English Rebel Songs 1381-1984." (The album includes the Manchester Martyrs song, The Smashing of the Van.)
"We did English Rebel Songs partly because we'd started going to listen to folk musicians and discovered this whole, great thread of political music that we hadn't understood was there.
"We were listening to people like [Scottish folk singer] Dick Gaughan. We wanted to add something to that rich history that we hadn't known was there. Everybody knew about Irish and Scottish rebel songs but in England we didn't have that tradition, so we thought let's go and find these songs and record them.
"It obviously wasn't a chart success or everyone going 'Wow, that's great'," Boff laughs, "but the end result was that, over the years, people referred to it as being educational, as part of a people's history." It was even used on schools' O Level syllabus, Boff says with more than a hint of satisfaction. "We're really proud of that album, one of the good things you can do with music."
Boff says that Christy Moore was "a huge influence" on Chumbawamba.
"There was this bloke with a gorgeous voice, who's singing beautiful songs and yet a lot of them are about really valid, worthy, political things. When he did the Hunger Strikers' album that was an absolute revelation to us because we thought you can sing about things that are incredibly harrowing and politically charged but you can sing them with gorgeous melodies."
Chumawamba made a splash at the 1998 Brit Awards by Danbert Nobacon soaking British Labour Party deputy leader John Prescott with a jug of water because the Labour Government wouldn't back the Liverpool dockworkers' strike. Earlier, Prescott had to sit through them playing Tubthumping with a change of lyrics that included the line "New Labour sold out the dockers". Chumawamba had been nominated for an award but didn't win, the major disappointment for Boff and the band being that Liverpool dockworkers they'd brought along with them didn't get the opportunity to go up and accept the award on behalf of the band and highlight their dispute.
In 2002, General Motors marketing paid Chumbawamba a big sum (Boff thinks it was around £100,000) for use of the song Pass It Along – the band gave the money to trade unions, CorpWatch and the Independent Media Centre to mount an information campaign against GM.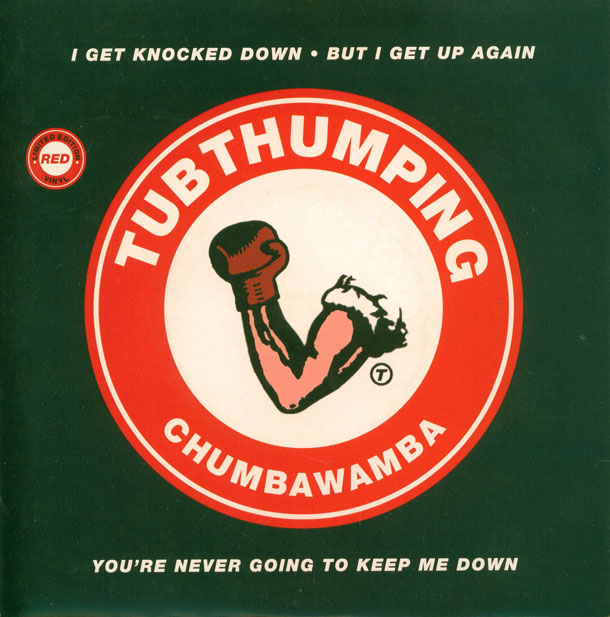 Being outside the mainstream hasn't inhibited Chumbawamba.
"It was good in a way because we raised the money ourselves for our first single, printed the covers by hand in the cellar, all sat round the kitchen table folding the booklets, and we did it on our terms. If people don't want to buy it or play it, so be it. We just did it on our terms."
And that became another trademark of the band.
When independent label One Little Indian heard the advance tapes of what would become the Tubthumper album they wanted it remixed by outside producers rather than the band doing it, as was their style. The band said no and left. Band members then took 9 to 5 day jobs again but they had a communal kitty out of which they paid themselves £60 a week for the next year as they finished recording what would become Tubthumper.
The band has been scathing of the showbiz exploitation of Live Aid, reflected in Chumbawamba's first album (in 1986), Pictures of Starving Children Sell Records.
"I don't doubt Bob Geldof's integrity," Boff stresses, "but none of the pop stars really had any point to make about world hunger, poverty and the systems responsible for this. They just sang their songs and it seemed so completely hollow and shallow.
"The whole thing of pop stars getting up on stage after taking cocaine and not having a clue about what they were doing makes a mockery of international politics and starvation.
"And I don't give any credit to people like Queen, who were a great band but at the same time had no problem breaking the UN cultural boycott by playing Sun City in apartheid South Africa to an all-white, rich crowd in a racist country."
Are there any artists Boff likes today?
"I love the way things are shifting back to kids voicing their anger through music. I think the whole Plan B thing is fantastic because it's not someone being explicitly political all the time. It's someone just saying, 'Look, I want to talk about what's going on in the world and this is really important.' I think it reaches kids in a way that rock bands didn't do before. I think it hits on a different level and there's a lot more emphasis on people's lyrics now, post hip-hop. I think when people have interesting things to say, young people are more likely to be listening to them."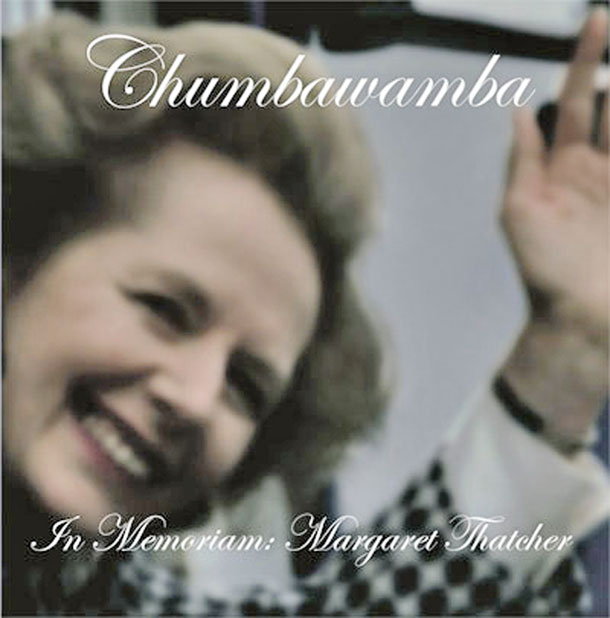 The Thatcher EP
CHUMBAWAMBA'S FAREWELL repertoire will, perhaps fittingly, end with an In Memoriam: Margaret Thatcher EP to be released on the day that the British former Prime Minister dies.
It features comedian Frankie Boyle amongst "a little 20-minute collage of three or four songs and bits of radio and stuff", Boff says. "It's recorded as a radio memoriam the day after Margaret Thatcher dies and you tune through the stations on your radio."
The website (www.chumba.com) says:
"Already recorded, pressed and ready to go, this EP will be mailed out to everyone who orders it in advance – mailed out on the day the Milk Snatcher waves a less-than-fond farewell.
"Pay your £5 now in the knowledge that, come the morning after the glorious day, you'll have this exclusive and unavailable-elsewhere CD dropping tombstone-like onto your doormat."
Boff says that the record itself isn't what it's important.
"It almost doesn't matter what's on it or that it exists. What's important is the idea of saying let's have a continuing dialogue about this woman and not let her just drift off into some kind of lovely afterlife. It does seem a bit weird because she is a frail old woman but I don't think that should blind anyone to what she did."