4 November 2012 Edition
Fishermen fight EU dumping disgrace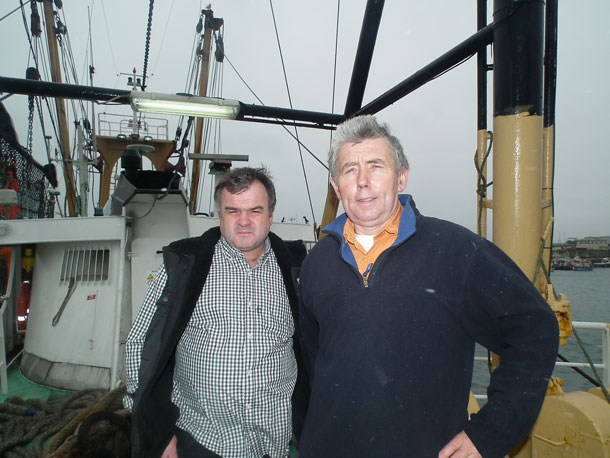 'I know there's children going to school and they don't have a breakfast, and they come home and they don't have a dinner because bills are coming and coming and the parents are unable to handle it. And here we are throwing good quality fish over the side. It's a disgrace'
KILMORE QUAY PIER, Wexford, Thursday 4 October: more than 200 happy people cram onto the jetty to pick up some lovely free monkfish courtesy of the Saltee's Quest skipper, Jimmy Byrne, and owner Seamus O'Flaherty.
EU law currently says that any fish caught that exceed the restrictive quotas place on fishermen have to be dumped at sea. Skipper Jimmy Byrne refuses to do so and told the Sea Fisheries Protection Agency (SFPA) he would be leaving it on the pier for them to dipsose of or people to collect and take home free of charge. By doing this Jimmy is accused of breaking the law and a file has been sent to the Director of Public Prosecutions over his actions. He could get a criminal cinviction. 
An Phoblacht's MARK MOLONEY met Jimmy and Seamus onboard the Saltee's Quest at Kilmore Quay to get their side of the story.
RAIN was pouring down as I arrived in the tiny Wexford village of Kilmore Quay to meet with Seamus O'Flaherty. Seamus has been involved in fishing since 1989. At the end of the pier is the "offending vessel", as he describes it in official-speak. Onboard, the five-man crew is preparing nets. "Jimmy is heading out tonight," he tells me.
The last time skipper Jimmy had brought the boat into the harbour, members of An Garda Síochána were waiting for him. The boat had informed the Sea Fisheries Protection Agency (SFPA) that they would not be dumping fish back into the sea and that it would be discarded onshore. "We told them, 'If you want this fish dumped at sea then you can do it yourself'," says Seamus. "We asked them if they wanted to take it and they didn't so when they arrived on the pier we were told that because it wasn't dumped at sea it counted as having been landed and they said, 'We're arresting you.' That's when we decided to get onto the media. We put 130 boxes up on the pier wall — which would be worth around €17,000 — and more than 200 people collected it. It was all gone within an hour."
On the pier, skipper Jimmy Byrne told reporters:
"I know there's children going to school and they don't have a breakfast, and they come home and they don't have a dinner because bills are coming and coming and the parents are unable to handle it. And here we are throwing good quality fish over the side. It's a disgrace."
A support page on Facebook for skipper Jimmy Byrne had more than 7,000 members within one week of the incident. Jimmy says he is "in awe" with the huge amount of public support and adds that the media coverage has done wonders to highlight the issue of discarding fish:
"Before this, people of Ireland didn't understand that we were dumping this fish. Most people knew there were problems with the quota but I don't think many knew we were throwing good dead fish away."
ANGER
It isn't the first time Seamus and his crew have courted controversy. Four years ago, he was one of 200 fishermen who handed out free fish to passersby on O'Connell Bridge in Dublin and later marched to Government Buildings during a visit by French Premier Nicolas Sarkozy to protest at the plight of the Irish fishing industry.
Both of these protests were triggered by widespread anger over the EU's Common Fisheries Policy. In EU law, Ireland is part of the North Atlantic Area VII fishing zone, which is 75% Irish water. Despite this, Irish fishermen are only entitled to catch 7.6% of the monkfish quota here; France gets 55%, the Netherlands 22%, Britain 14%, and Spain 7%.
Seamus tells me that the main problem is the CFP policy of 'Relative Stability':
"If our quota goes up by one tonne, then France's quota goes up by eight tonnes. France was the big negotiator at the time the fisheries policy was agreed, Germany had little interest in fishing at the time, and Spain wasn't even in the EU. Their attitude was basicallly 'Sure those Irish lads' currachs won't go out that far anyway.'"
The restrictive quota issue is compounded by what many fishermen claim is a failure to enforce regulations in other EU states. All member states are responsible for self-implementation and enforcement of EU rules yet illegal fishing still accounts for up to one-third of annual catches in some states.
The arrival of Spain into the EU meant the quota system had to be re-examined.
"Spain got a tiny quota," says Seamus,  "yet they've continued to send a massive fleet up here to catch whatever they want. The difference between us and them is that the Spanish Government supports them. They just look the other way when the boats come in — that's how they keep their industry going. We're the only ones arresting our own boats like good little Europeans, but sure the rest of them are laughing their heads off at us."
In the late 1990s it was reported that the Irish Naval Service was told by the Government to 'back off' regarding Spanish ships after the Spanish Ambassador threatened a boycott of the import of Irish fish. "There's no way the Spanish fleet could live off the legal quota they have," Seamus says.
CRIMINAL
The way Ireland deals with breaches of CFP rules is also highly criticised by many involved in the fishing industry. Jimmy was told that a file had been sent to the Department of Public Prosecutions over his role in the protest.
"It's outrageous," says Seamus, "that fishermen can end up with criminal convictions for stuff like this. In Portugal, this stuff is dealt with by an administrative panel which gives out fines but no criminal conviction. Here, fishermen like Jimmy can end up in court — they could be up in the dock after a rapist or a violent criminal or whatever else."
Jimmy adds:
"Decent, hard-working men are treated like criminals here. I'm heading down the road where I could be classed as a criminal yet I haven't so much as gotten a parking ticket in my life!"
During the 2011 Dáil general election, Fine Gael promised to change the way such cases are dealt with and to decriminalise breaches of fishing regulations.
"Fine Gael said they'd change this but they haven't done a thing," says Seamus. "Criminalisation should be all done away with. Since the SFPA came into existence they have been moving cases from the district court to the criminal court were fines tend to be a lot higher. It also gets very expensive to be represented by a barrister."
SCOOPING UP OUR WEALTH
New laws on mesh sizes to avoid the catching of younger fish has seen healthier fish stocks, as has the restricted fishing area known as the Irish Conservation Box.
There are concerns about current numbers being used to calculate fish stocks. In mainland European countries some fishermen will claim they caught their full quota of certain types of fish even if they've only got half of that. The reason? If fishermen continually come in under quota then the quota gets reduced. Many believe scientists are therefore being given faulty numbers and estimating fish stocks to be further depleted than they are. "We're allocated six tonnes a month of monkfish. I just proved to them what kind of monkfish are out there. I got eight tonnes in six days," says Jimmy.
With Ireland's coming presidency of the EU, fishermen are calling on the Government to go in and fight on behalf of the Irish fishing industry.
"We're an island nation," says Seamus, "and we should be getting a lot more out of our waters. Unfortunately, all our wealth is being scooped up and taken to France and Spain.
"This country is going through fecking bail-outs and paying back fortunes to failed banks yet foreign boats are taking €2billion worth of fish out of our waters every year. This has been going on since the 1970s. Add all that up and it's a lot more than our bail-out!"
Sinn Féin TD and Fisheries spokesperson Martin Ferris says:
"The only solution is a total reform of the Common Fisheries Policy and the reclaiming of Irish sovereignty over our fishing waters. That would allow us to be increase the quotas for Irish fishermen and to vastly reduce the overall catch by imposing strict limits on non-Irish fleets."
Seamus says that unless there are real changes to the quota system then the future for the Irish fishing industry is bleak.
"The one thing I don't want to see, and I'm sure nobody else wants to see it either, is that one day none of the boats catching fish in Irish waters will be Irish. That day is coming unless this is sorted out." Jimmy also says the fact that the two top deputies over the fisheries in Brussels are French and Spanish is unfair. Many fishermen want to see somebody from outside of the EU to review and allocate quotas in a fair and unbiased way.
"The fish out there don't belong to the fishermen, they belong to the Irish people," says Jimmy, "all I do is harvest them an bring them to shore. With this boat alone I have five crew and it helps keep 21 onshore jobs there between transport, sorting, packing and all that. That's just one boat. There's enough unemployment in Ireland at the moment. Now just imagine what'll happen if the fishing industry keeps going downhill. The knock-on effect will be huge."