4 November 2012 Edition
Protecting children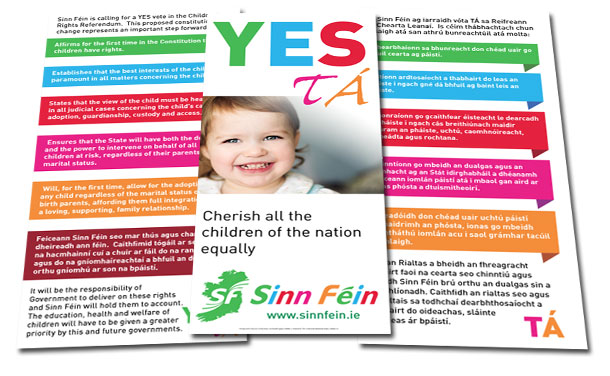 Simply passing a referendum will not of itself remedy these failures or remove the distrust of the authorities' ability to protect children, but it is the start
THERE ARE some things that stay with you, that crystalise your view and set your perspective. The Roscommon abuse case, which came to light in 2009, stays with me. It confirmed in my mind the absolute necessity for the state to protect children, to intervene where a child is not safe in their own home.
The six Roscommon children were subjected to a hell on earth: incest, sexual abuse, beatings, starvation and assault. It was a difficult case to read. I can't begin to imagine the distress, loneliness and despair that those children endured. People were very angry that the state – yet again – failed to intervene decisively to rescue those six innocents. Roscommon wasn't the first horror story, it wasn't to be the last, but it is the one that stays with me.
Some people are anxious that the referendum on children's rights would give the state too much power to intrude on family life, that it would undermine the rights of parents to raise and care for their children. Others point to the litany of ways in which the state has failed – and continues to fail – children. These are legitimate concerns. Parents are the primary, natural custodians of the child. They have the privilege and right to nurture their family without undue interference by the state. The state has unquestionably failed children. Industrial schools, Magdalene laundries, illegal adoptions, deaths in state care are just a glimpse of the enormity of that failure.   
Simply passing a referendum will not of itself remedy these failures or remove the distrust of the authorities' ability to protect children, but it is the start. The proposed statement of children's rights in the Constitution removes any excuse for state failure to intervene in any future Roscommon case. It does not remove the rights and privileges of the family but it does categorically set out the state's responsibilities to intervene where a child is in real danger.
It will fall to the Government to hold to account all of those institutions and services that deal with children, to ensure that those services are properly resourced, to address child poverty, to deliver in real, tangible terms the promise in the Constitution to protect children. December's Budget will be their next test.