4 November 2012 Edition
Budget 2012: We need a Plan B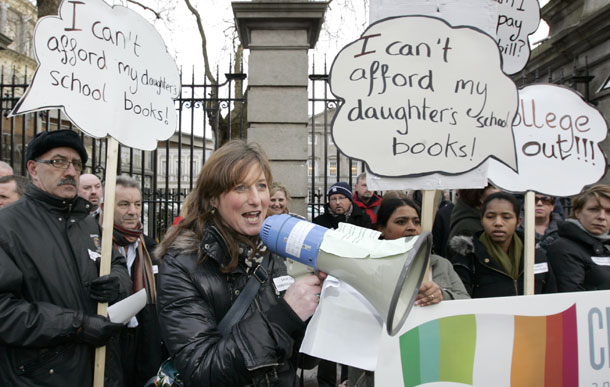 At the heart of Plan B is the call for significant investment that would stimulate economic activity and employment
RISING UNEMPLOYMENT, poverty and emigration, cuts in esssential public services and the unravelling of community supports is the dismal backdrop to the looming budget to be announced on 5 December.
This awful vista was not caused by accident but is the outcome of political and policy decisions taken over recent years. To make matters worse, the strategy to get Ireland off its knees is most definitely not working. Although the IMF and European Central Bank may have us over a barrel, they don't seem to really care what we do with the barrel as long as their repayment targets are met on time. Yes, the Irish Government is in a difficult place but it does have choices. We are not as helpless or devoid of options.
Claiming Our Future has put forward a 'Plan B' that would result in not just economic recovery but also a more just and sustainable Ireland. At the heart of Plan B is the call for significant investment that would stimulate economic activity and employment. There are sources of funding to support this investment if the Government chooses to take this route.
Public services and low incomes
Plan B also prioritises the protection of public services and low incomes by targeting tax increases on those who can pay the most. The obvious first step would be the introduction of a progressive wealth tax.
Annual budgets provide a valuable insight into the approach and priorities of a government. Last year's Budget was one of the most regressive seen in years. The gap between the rich and poor was widened and the myth that we are all bearing an equal share of the burden was busted.
It doesn't have to be this way.
Plan B offers another way forward. Take some action to build our voice for a different direction.
Start by signing the petition supporting Plan B.
Get more information at: www.claimingourfuture.ie