4 November 2012 Edition
Partition is costing Southern economy money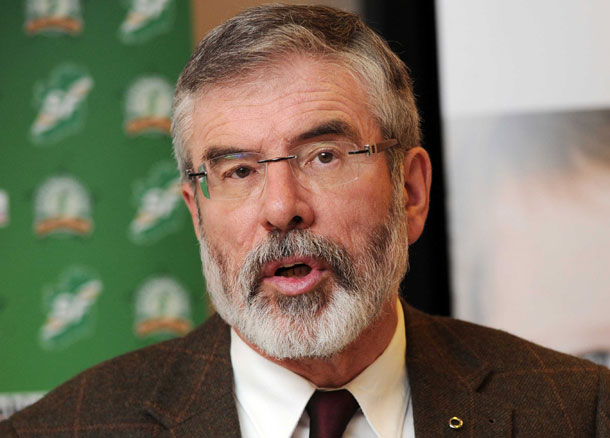 Now is exactly the right time for a debate on ending partition and achieving Irish unity in the context of rebuilding and calibrating the economies of this island into a single island economy in the interests of all our citizens
TAOISEACH ENDA KENNY'S plea that he cannot consider a Border poll until the economy is sorted out ignores the fact that partition is costing the Irish economy every day, Sinn Féin President Gerry Adams said after opening party offices in Meath and Derry.
"The problem with the Fine Gael leader's response is that it ignores the reality that partition costs the Southern economy money and an end to partition would bring with it significant economic benefits," Gerry Adams said.
The former MP for West Belfast and now TD for Louth said that Sinn Féin's political message is coherent and consistent across the island:
"In the North, Sinn Féin is working hard to mitigate the worst effects of the Tory cuts agenda. As a result, the Executive has prioritised finding money to maintain frontline services, protect those on lowest incomes and communities which were subject to decades of economic discrimination.
"The so-called Welfare Reform Bill is an example of the English Tory agenda.  Sinn Féin is opposed to this Bill because we are opposed to austerity."
He said that poverty affects working-class unionists in exactly the same way as nationalists:
"Unionism is essentially a conservative political tendency with no real concern to serve the interests of poor or disadvantaged people. Many working-class unionist communities have been abandoned by the main unionist parties.
"Social justice demands that all citizens, whatever their background, are treated equally. That means austerity must be resisted."
The Sinn Féin leader welcomed Fianna Fáil leader Mícheál Martin "rediscovering a renewed interest in developments in the North" but said that Fine Gael and Labour are no better or worse on the North than the Fianna Fáil government was.
"If Dáil parties are genuinely interested in the North," Gerry Adams said in Derry, "then I invite all of them to organise here. I also invite them to support a Border poll."