4 November 2012 Edition
Martin McGuinness: 'A united Ireland is inevitable'
AN PHOBLACHT last interviewed MARTIN McGUINNESS during his election campaign for President of Ireland. One year on – after coming a very creditable third of seven candidates and winning twice as many votes as Fine Gael's Gay Mitchell – Martin spoke to us about the political state of play.
A Border poll – premature or predictable?
"I'm amused to hear some people say there'd be no point in having a Border poll because the result would be so predictable. If it's all so predictable, then what are they afraid of?"
Peter Robinson has said a Border poll would be a waste of money but Martin points out that a poll is a key provision of the Good Friday Agreement.
"Given that all parties signed up to that – including the unionist parties and both governments – it would be appropriate to test public opinion and to do it in a reasonable and commonsense way.
"Sinn Féin's advocacy of a Border poll isn't for the purposes of creating division; it's for having a sensible debate on the merits of Irish reunification.
"Whether you're living in Cork or Kerry, or Antrim or Derry, we all really do need to consider how much more efficiently the island of Ireland would work if we didn't have two government and two financial systems, didn't have two education systems, didn't have two health systems, and didn't have various institutions in competition with each other.
"It's very important to stress that we have people like [DUP Minister] Edwin Poots talking about the merits of treating people from County Cavan and County Monaghan in the new hospital in Fermanagh – a very sensible suggestion. We also have the same minister talking about the need to provide cardiac services for children in Belfast and have them treated in Dublin. We're shortly going to be constructing the new radiotherapy unit at Altnagelvin Hospital for patients from Donegal, Sligo, Tyrone and Derry. And you have important infrastructural projects like the new A5, going from Monaghan through to Derry and Letterkenny and Donegal. All of these are very powerful arguments for fast-tracking an all-Ireland agenda in terms of developing the economy and infrastructure."
As for suggestions that a Border poll could destabilise the power-sharing institutions, Martin replies:
"To be quite honest, I don't think anything could undermine the power-sharing institutions. We have agreed these institutions and we have the overwhelming support of the people of Ireland for these institutions.
"We have to keep to the Agreements we've all signed up to but that doesn't prohibit us having a debate or discussion about the merits of Irish reunification. And I think that debate can take place in very dignified and respectful way.
"Those people who try to argue that Irish reunification is an extreme demand need to get real and understand that it is a democratic objective which we in Sinn Féin are entitled to argue for.
"I believe a united Ireland is inevitable."
• 1997: 'The Irish peace process has been tremendously successful'
Is the Peace Process complete?
"No. I've been on the record in a number of recent speeches as saying that the next phase of the Peace Process is one of national reconciliation on our island.
"The Irish Peace Process has been tremendously successful and it is seen as such all over the world today [see the report on page 24 about Sinn Féin's Gerry Kelly and the Philippines peace deal], but we shouldn't in any way paper over the damaging dimensions of bigotry and sectarianism that are clearly there in some sections of our community. We saw over the three nights of rioting in north Belfast recently, carried out mostly by loyalists and unionists, there is still an awful lot of sectarianism, bigotry and indeed hatred that we have to address. What we need to create for people who lean towards that attitude is a process that assists them in learning not to hate.
"There needs to be sensible discussions taking place between everybody on the island. Declan Kearney and Sinn Féin are putting ourselves out front in identifying the need for a meaningful and genuine reconciliation process in a very positive way. If others engage in the same way to help this then I believe the benefits to society could be enormous."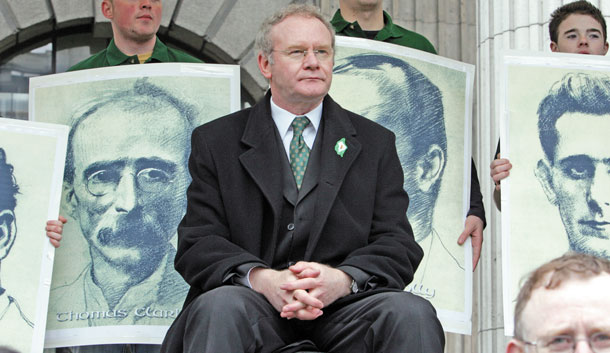 • At the GPO in Dublin: Republican leaders past, present and future 
Commemorating centenaries
"I was pleased when DUP leader Peter Robinson accepted the invitation to the Department of Foreign Affairs in Dublin this year to speak about Edward Carson, an event that Gerry Adams and myself attended.
"We all want the decade of centenaries to pass off in a dignified and respectful way but the Covenant Centenary Parade in Belfast was an absolute disaster for unionism. It was not a good news story.
"It was a diabolical situation in north Belfast where you had a loyalist 'Kick the Pope' band – hate-filled, in my opinion – in a coat-trailing exercise outside Catholic churches and a refusal then by loyal orders of recognising the importance of engaging with the local community."
It has been suggested by some unionists that the Orange Order cannot be held responsible for the behaviour of the bands.
"I beg to differ. If the loyal orders are organising these parades, there is a duty and a responsibility on them to be answerable and accountable for the activities of those they invite along.
"Unionist leaders have had to reflect on what has been a very damaging experience. As a positive result of that, we have seen the start of an engagement between the Apprentice Boys and the Carrick Hill residents in north Belfast, who have adopted a non-antagonistic, and commonsense position in relation to the right of the loyal orders to parade but in a dignified and respectful way."
Martin says that he wrote to the Orange Order Grand Lodge of Ireland more than three weeks ago to seek a meeting.
"I'm still waiting for a response and I'm hoping for a positive response because I think the key to resolving conflict around parades and marching resides in an acceptance by everybody that we have to move forward in a spirit of constructive dialogue, respect and dignity."
Is it 'a battle a day' in the Assembly?
"Nobody tries to give the impression that Peter Robinson has become an Irish republican or that I have given my allegiance to the British state – nothing could be further from the truth. Peter Robinson is still someone who believes in Britishness and what he calls the United Kingdom; I don't have any allegiance to that – my allegiance is solely to the people of Ireland.
"Given that unionists and republicans hold those beliefs and aspirations, I suppose there will always be a certain understanding about the parameters within which we're working."
But there is a real difference about how to deal with the effects of the international financial crisis as well as economic decisions made in London by a government dominated by the Conservative Party.
"We in Sinn Féin are very proud of the fact that we do stand up for the most marginalised, poorest and disadvantaged in society.
"We took a strong stand against the welfare cuts the British Government are attempting to impose on us in the North. We make no apologies for that and trying to get changes to militate against the more damaging aspects of the changes the Tories and Liberal Democrats at Westminster are forcing on us.
"The imposition of the welfare cuts is another argument for Sinn Féin's position that revenue and spending powers should be the remit of the Assembly."
The future for Sinn Féin
"I think the future prospects for Sinn Féin have never been brighter.
"The tremendous performance of our Oireachtas members and national leadership in leading the opposition to the austerity agenda, coupled with a first-class constituency service for people and activists working hard all over the island, has shown Sinn Féin is a credible Opposition party. That and our experience in government in the North shows we are a party that would be well-suited to being in government in the South.
"I've always said that for us to move forward we need to have people elected to Leinster House who can articulate our vision for a new Ireland and an end to corruption, Golden Circles and cronyism, the brown envelope mentality, and the dominance of an influential elite within society whose priority has been their personal wealth whatever the cost to the public good.
"We are demanding that the resources of the nation be used for the benefit of all citizens and not to swell the coffers of a tiny minority who, by dint of their wealth and political contacts, have had it good at the expense of the Irish people over many decades.
"Sinn Féin has shown that we are a people's party."