15 April 2010 Edition
Landscape changes as education reform moves forward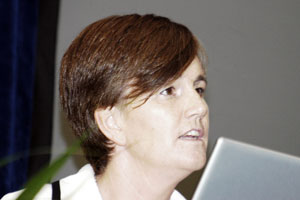 Sinn Féin advances equality agenda for schools

BY EMMA CLANCY

The ambitious reform of the education system in the Six Counties, driven by Sinn Féin, has made several decisive political steps forward in recent months. On 1 March the North's Commission for Catholic Education published its post-primary review reiterating its position that academic selection should be completely phased out of Catholic-sector schools by 2012.
The Catholic Church has held a longstanding position of opposition to the discriminatory practice of testing children at the age of 10 or 11 to determine the type of post-primary school they will attend. However, this review (and its complementary area reports) for the first time outlines specific proposals as to how schools in a given area can make the transition to area-based planning.
The CCE's proposals would see the distinction between grammar schools and secondary schools phased out, and education delivered by collaborating schools in geographically based 'Learning Communities'. As well as aiming to implement Department of Education policy on area-based planning, the review aims to address the challenges presented to schools by declining pupil numbers.
The proposals have been released for public consultation until 31 May. Sinn Féin Education Minister Caitríona Ruane has welcomed the review and encouraged a widespread discussion of its proposals by the community during the consultation period.
As well as the CCE post-primary review, there has also in recent months been an increasing level of organisation of the various different supporters of equality of access in education. Educationalists and teachers' unions have made their strongest public statements yet calling for the abolition of academic testing, and public opinion has been mobilised in support of the reform process. 

Tide of change
Of course, there continues to be very significant challenges in the struggle to move education reform forward. Legislation is not in place for a regulated transition to a post-selection system due to the opposition of the unionist parties in the Assembly.
Grammar schools determined to cling to the old system last year organised breakaway entrance tests and some will do so again this year. Some political parties and sections of the media called for a state-sponsored test to be reintroduced.
But real progress has been made in this debate. Change is not coming some time in the future – it is happening. Under the leadership of Ruane, the 11-plus test is gone and will not be reintroduced.
The 'Transfer 2010' guidance issued by the Education Minister last July sets out clear guidelines for post-primary transfer procedures based on non-selective criteria that legally must be taken into account by schools' boards of governors when deciding their entrance procedures. Transfer 2010 is being successfully implemented by the majority of schools.
The decision by the two grammar associations that formed to try to maintain selection – the Association for Quality Education and the mainly Catholic Post-Primary Transfer Consortium, which each represented 34 schools - to hold breakaway entrance tests last November prompted educationalists to speak out angrily.
In the Catholic sector, three groups of primary and post-primary school principals, representing more than 150 schools, spoke out against the breakaway test plans last May. This was followed by further statements later in the year, including from a group of primary school heads in September who called academic selection  "educationally unsound, fundamentally unfair and completely contrary to the ethos in Catholic schools".
Statements from Church leaders have developed from reluctant tolerance of breakaway tests to strongly discouraging them.

Expert opinion
The CCE's post-primary review published on 1 March represents the most significant development yet in this sector. It was drawn up by teams of educationalists in each area working on the proposals for several years, informed by developments in Education Department policy and best practice in education internationally.
Responding to the publication of the review, Ruane said: "This review opens the door for grammar schools to move away from the use of academic selection.
"Through its work, the Commission offers a clear way ahead for Catholic schools and this should also be of interest to all sectors of education."
The review makes it clear that removing the 'grammar' status will not reduce the standards of academic excellence achieved in existing grammars. It aims to implement the Entitlement Framework, introduced by Ruane, of a broader range of subjects delivered to pupils by collaborating schools.
All five teachers' unions active in the Six Counties have consistently supported the drive to move beyond selection and their calls for the abolition of testing have grown louder and stronger this year.
In March, the NASUWT conference passed a motion "deploring" the continued use of testing. Delegates condemned the "resultant stress caused to young children for no valid educational reason".
Also in March the Ulster Teachers Union passed a motion at their annual conference calling for the end to selection, weeks after the Irish National Teachers Organisation and the Catholic Principals Association called for the same.
In a contribution to the INTO journal last year, UTU general secretary Avril Hall Callaghan said the system of rejecting children at the age of 11 was "divisive, demoralising and destructive".
"Teachers annually witness first-hand the tragic effects such an undermining of confidence can have on young lives," she said.

SDLP capitulation
Last September the unionist, pro-selection daily Belfast Telegraph initiated its 'Sit Down, Sort It Out' campaign and petition, which calls for politicians to negotiate a "compromise" solution to the legislative impasse. The petition collected more than 10,000 signatures over several months before it was delivered to politicians at Stormont in December.
A second petition, organised by the Belfast Media Group in December, which collected more than 10,000 signatures in two weeks with far less resources, commended the Sinn Féin-led reforms and demanded there be "no reprieve" for the 11-plus.
This mobilisation of public opinion in support of education reform was very significant. Even though it barely rated a mention in the pro-selection media, it demonstrated that the myth peddled by these papers  – that the community is overwhelmingly opposed to change in the education sector – is just not true.
In response to the Belfast Telegraph petition, a "special Assembly group" involving the DUP, UUP, SDLP and Alliance has met on several occasions since last year to "discuss transfer procedures".
The SDLP used to be counted among those who are opposed to academic selection. But in their desperation to score political points and to try to undermine a key Sinn Féin project, the SDLP has joined forces with unionist parties to participate in this Telegraph-sponsored stunt.
In this ostensibly 'earnest' discussion about compromise and a way forward for education reform process based on consensus, the meetings have so far produced a commitment to retaining academic selection and a demand that the Department of Education reintroduce a state-sponsored test.
At a time when educationalists are increasingly vocal and confident in opposing selection, and when the Catholic sector is producing concrete proposals about non-selective transfer and supporting the implementation of the Education Department's transfer guidelines, the SDLP has spinelessly capitulated to the unionist parties' demands and joined them in calling for Ruane to bring back the 11-plus.
The unionist parties don't seem to remember refusing to discuss the Education Minister's proposal in May 2008 to introduce a state-sponsored test for a three-year phase-out period.
And the SDLP don't seem to remember their position on the proposal for a temporary state-sponsored test, which they labeled a "climb-down" by Sinn Féin.
SDLP Spokesperson on Education Dominic Bradley said at the time: "The minister has caved in to pressure from those who are opposed to reform."
When this proposal was being put forward by the minister, a state-sponsored test wasn't deemed good enough by the grammar lobby and its political sponsors precisely because the proposal was that it would be temporary.

Responding to the SDLP on 15 February, Sinn Féin's Education Spokesperson John O'Dowd said: "Does the SDLP really believe that, following their proposal for the reintroduction of so-called 'temporary testing', the unionist parties will suddenly be compelled to do away with their support for the 11-plus and academic selection?
"The fact is there is no plan or intention under the proposals backed by the SDLP to end selection."

Moving on
While this stunt by the four political parties is partly aimed at trying to create the impression that Sinn Féin is unwilling to engage in the education reform debate, it is more fundamentally about the grammar lobby's unease about operating a testing system with no legislative basis.
Speaking during an Assembly debate on education on 5 October, Ruane said: "I have always stated that my preference is for a new regulated system of transfer and I spent two years developing compromise proposals, repeatedly seeking engagement upon them. On three occasions, other parties refused to discuss these proposals."
Sinn Féin made it clear that a state-sponsored test would only be introduced with a legislative basis and in the context of a defined timeframe of phasing out selection. Without a legislative basis such a process of testing would be "a legal minefield".
During the breakaway tests sat last November, sections of the media and politicians tried to exploit the trauma and confusion experienced by children sitting unregulated entrance tests to reiterate their demand that Ruane reintroduce a state-sponsored standardised test.
But it's very clear that the concerns of those who champion their "right" to reject pupils from their schools are not for the welfare of students but for the legal ramifications of unregulated tests.
While the transfer test was provided by the CCEA, it was delivered by a professional, dedicated and expert educational body complete with appeal mechanisms.
There is now no legally enshrined basis for discriminating against students using academic admissions criteria and families of children who may or may not have sat the entrance tests may challenge their exclusion from certain schools in court.
As well as understanding these legal ramifications of using their own tests, the grammar lobby also needs to understand that there will be no reintroduction of a state-sponsored test. The temporary state test option was rejected by the unionist parties and the process has now moved on.
Non-academic admissions criteria outlined in Transfer 2010 are being implemented successfully in the vast majority of post-primary schools. The CCE is urging the Catholic sector, which accounted for 34 of the 68 breakaway grammars last year, to stop testing and implement the Department guidance.

Academic excellence
The entrance statistics show the reality that, while 68 grammar schools insist on putting young children through tests, the majority of grammars have become all-ability schools that are hanging onto testing as a way to ensure they can continue to pick and choose their students and fill to capacity – while secondary schools struggle to fill seats.
The intake of the grammar schools last year after the last 11-plus was sat in November 2008 clearly showed this, with some schools such as Campbell College and Coleraine Inst accepting more students with D results in the 11-plus than As. At St Mary's CBS, 40 of its 175 intake had received As and it also accepted 36 pupils who received Ds.
Ruane said the changing nature of grammar schools – as a result of demographic decline – "begged the question as to why these schools need to set admissions tests at all".
Proponents of academic selection tell us that the removal of entrance barriers for pupils will 'punish' the schools that are performing well academically, and cause an equalisation downwards of educational and academic standards.
But Ruane has pointed out the "quality of teaching and leadership in our schools determines how their children progress, not the narrow definition of the type of school".
The transfer reforms aimed at eradicating a two-tier system are accompanied by other initiatives aimed at increasing educational standards across the board including a major literacy and numeracy improvement programme.
"No parent or student who is academically inclined should feel threatened by these reforms. On the contrary, the academic excellence which exists in our current arrangements must also be protected, defended and enhanced," she said.

Social mobility?
The other key claim made by defenders of selection is that it provides an avenue of social mobility for young people from working class backgrounds.
Representatives of the AQE and other cheerleaders for the old system often use this claim to defend selection. But the figures show there is no truth in this statement.
The breakaway tests sat last November demonstrated this fact again. While across the North the average free school meal entitlement in non-grammar schools is about 17 per cent, in grammar schools it is six per cent. Only five per cent of pupils sitting the first AQE test on 6 November were free school meal entitled students.
In the Assembly on 21 April, Progressive Unionist Party leader Dawn Purvis slammed the DUP and UUP over their stance on academic selection, which she said perpetuated disadvantage among working-class Protestant communities.
"The way we currently practice academic selection institutionalises inequality," she said.
"Some unionists in this chamber have for years been calling for unionist unity and to them I ask where is your sense of responsibility for the whole of the unionist community and not just the privileged few?"
 Ruane confirmed that in 2008/2009 in the working-class unionist Sandy Row in Belfast, 11 out of 79 primary pupils transferred to a grammar school, while in the Shankill it was 10 out of 104 – compared with 214 out of 235 on the wealthy Malone Road.
All the statistics demonstrate that the selective system clearly perpetuates rather than breaks down patterns of poverty and social exclusion.
Discrimination within a selective process – especially against children with special needs, children from disadvantaged areas, and Irish-speakers or children with English as a second language – is inevitable.
Sinn Féin understands the vital role that education plays in society and how ambitious reforms in the system can help overcome the legacy of discrimination and inequality in the North. Unionist politicians obviously also understand its strategic importance in advancing the equality agenda and social progress; that is the basis of their opposition to the reforms.
"Sinn Féin intends to build on and expand the broad professional consensus and support from across all sections of the community for the abolition of academic selection and its replacement with a socially just system based on equality of access for all," Ruane said.
EDUCATION: Change is not coming some time in the future – it is happening