15 April 2010 Edition
Fógraí bháis: Chrissie Heffernan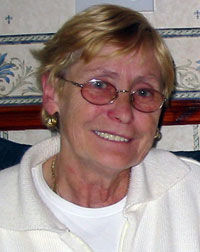 Life-time republican and community activist Chrissie Heffernan passed away recently after a battle with illness. A large funeral on the Tuesday after Easter heard Chrissie's friend and colleague Sinn Féin Councillor Seán Crowe remember the Liberties woman with pride and extend condolences to the Heffernan family on behalf of the thousands of republicans who experienced the kindness of Chrissie and her partner Vinnie over decades of work for the republican cause.
The couple would have been married 47 years this August, and enjoyed six children Eugene, Brian, Karen, Denise, Vincent and Audrey. Chrissie was to the fore in ensuring that all children in her area benefited from youth activities and, with others, raised funds for Father Brown's Hall, the local Youth Club and, year after year, for the Summer Projects for children in the Mount Tallant area and its surrounds. Seán said of her:
"When work needed to be done in the Community for young and old, Chrissie was always there, working away, doing the quiet work, the hard slog, the important work, that meant the difference in some children getting a holiday or someone sick getting a meal or their shopping in. The little things, the important things...
"A Dublin republican, Chrissie was a hard worker and a prolific knitter and many republican prisoners and their families attest to this. She collected money, visited republican prisoners and their families throughout the country. Chrissie attended marches, protests, worked in elections and campaigned on a broad range of community and national issues.
Active members of Sinn Féin, Chrissie and Vinnie were honoured for their work by Sinn Féin Átha Cliath in recent years. As Seán Crowe said:
"Anything that needed to be done, Chrissie gladly did it.
"At sixty years of age, a grandmother, along with her daughter Karen she went to jail for her community, against the double tax of bin charges. Chrissie said she got on well with her fellow inmates who all looked after her. As one prisoner said after, 'This was the grandmother who was in jail for helping our communities and families outside.'
"The two-week stay in prison didn't help Chrissie's health, and she was diagnosed with cancer not long after being released.
"We have all been privileged to know her."
I measc laochra na nGael go raibh sí.