15 April 2010 Edition
Rank and file will decide on Croke Park deal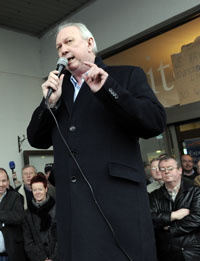 Nuacht na nOibrithe  
THE SIPTU leadership may have thrown a lifeline to the Croke Park public sector pay agreement between the Government and ICTU by urging its acceptance on Tuesday  –  the same day that the Irish Nurses and Midwives' Organisation's NEC recommended its rejection – but the argument still has to be won amongst rank file union members reeling from attacks on living standards while bankers get away with daylight robbery.
The SIPTU decision received majority but not unanimous backing. It said "the balance of advantage" rested with acceptance by members in a ballot next month, claiming it offered security on jobs, pay and pensions, as well as a framework for recovering lost ground.
The Executive Council of the Civil and Public Services Union has unanimously decided to recommend rejection of the Croke Park deal.
Fianna Fáil Finance Minister Brian Lenihan said he was very disappointed that more union NECs had rejected the Croke Park outcome than accepted it but also added that union members still had to vote on it.

'BALANCE OF ADVANTAGE'
A statement from the SIPTU NEC on its recommendation:
"Our public services are facing restructuring one way or the other. The question is, in whose interests? Will the process serve the interests of the citizens in a manner compatible with the rights of public service workers or will it be determined by the interests of people who want to make a profit out of providing them. Unquestionably, it is better for our members to be in a position to influence and shape the process.
"The proposals before us must be considered in the context of what is actually in them and what is not in them. They would undoubtedly benefit from greater clarification in a number of respects. However, they offer security on jobs, pay and pensions and provide a framework for recovering lost ground, as well as affording union members equal influence in the restructuring process. Accordingly, we believe the balance of advantage rests with acceptance."

'PIE IN THE SKY'
Trade union Unite, however, strongly dismissed the Croke Park outcome, saying that "Pie in the sky promises do nothing for front line workers and will further damage the national economy."
A meeting of UNITE public sector representatives overwhelmingly voted to reject the public sector agreement reached with government.
Jimmy Kelly, Irish Regional Secretary of Unite, said:
 "The agreement seeks to copper fasten this government's misguided policy of taking money out of the real economy to prop up the very institutions that caused our economic meltdown in the first place.
"The promise of 'jam tomorrow' is wholly undermined by the actions taking place in banking and insurance.  €1 billion was saved in public sector pay that takes money out of every business and enterprise in the country.  €8 billion as a minimum has gone into Anglo Irish Bank which has no long term future benefit for anybody other than overseas bond holders.
"This is like Alice in Wonderland and the membership of UNITE and other trade unions needs to stand up and inject a dose of common sense.
"Our unequivocal recommendation to members will be to reject this proposed agreement.  We will ballot our members over the next two weeks and will continue our campaign of public sector action to force government to adapt a more progressive approach to the problems we face.
"In the meantime we will continue to press the alternative policies that can lift us out of the mess we are in.  It is now slowly dawning on the establishment that growth rather than retraction has worked elsewhere and is essential if Ireland is not to create a lost generation who will be forced to pay for the sins of excess and worse for the greater sin of this government acting blindly in supporting zombie banks."

NURSES SAY 'NO'

Explaining the INMO's reasons for rejection, INMO General Secretary Liam Doran said 1,900 nursing and midwifery jobs, mostly contract posts, had already been cut but it was the anticipated impact of the Croke Park arrangement on health services rather than simply pay and conditions issue that persuaded the INMO to say no.
He described the agreement as flawed and one that will not transform public services in a manner that services are accessible and safe.
"The INMO is still prepared to agree radical changes to our public service but only in a manner that maintains safety, maximises access and ensures equity, effectiveness and cost-efficiency."
The INMO said its main problems with the agreement were that it requires acceptance of the current recruitment moratorium which it says, would result in a further 6,000 posts being lost from the public health service over the next three years, and acceptance of the McCarthy Report which recommends a reduction of over 3,500 beds.
The INMO also said the deal also requires acceptance of a Government borrowing ratio level by 2014 which it believes is far too short a period.
The INMO says the recruitment embargo needs to be lifted, frontline staff on leave need to be replaced and beds should not be closed in the absence of available alternatives.