15 April 2010 Edition
Leadership for real change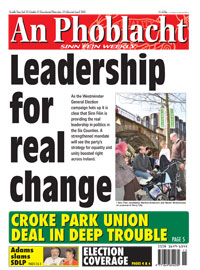 As the Westminster General Election campaign hots up it is clear that Sinn Féin is providing the real leadership in politics in the Six Counties. A strengthened mandate will see the party's strategy for equality and unity boosted right across Ireland.
Sinn Féin's vote set to rise in 2010

BY ROBBIE SMYTH

The 26% vote share won by Sinn Féin in the 2007 Assembly and 2009 EU elections can be bettered in this year's Westminster poll and more than a decade of electoral growth for the party can be built on further. In the first of three reports An Phoblacht looks at the first seven Westminster constituencies assessing the Sinn Féin vote record.

East Antrim
                        vote    % of poll
1998 Assembly    746    2%
2001 Westminster    903    2.5%
2003 Assembly    768    2.5%
2005 Westminster    828    2.6%
2007 Assembly    1168    3.9%

Oliver McMullan is the Sinn Féin candidate in East Antrim and is one of Sinn Féin's five councillor on Moyle District Council. McMullan represents the Glens ward, a consistent poll topper there in the previous five local elections.
Oliver was first elected to the council in 1993 and has since became the party's first Chairperson of Moyle, when Sinn Féin became the largest party at the last council elections. In 2008 Oliver was elected chairperson of the local District Policing Partnership.


North Antrim
                        vote    % of poll
1998 Assembly    4,045    8%
2001 Westminster    4,822    9.8%
2003 Assembly    6,195    14%
2005 Westminster    7,191    15.7%
2007 Assembly    7,065    15.9%

In 2007 Daithí McKay retained the Assembly seat Sinn Féin won here in 2003, and he was elected on the first count.
Daithí is one of the youngest Sinn Féin Councillors and Assembly members in the North. He sits on Ballymoney Council, is Sinn Féin Environment Spokesperson, Policing Board member and chairperson of the Assembly all-party Group on Climate Change.
You can follow Daithí's blog at http://daithimckay.blogspot.com/. It is called Republicanism, Craic agus Scéal.


South Antrim   
                        vote    % of poll
1998 Assembly    3,226    7%
2001 Westminster    4,160    9.4%
2003 Assembly    4,295    11.5%
2005 Westminster    4,407    11.6%
2007 Assembly    6,313    16.5%

Mitchel McLaughlin has contested every possible election in the Six Counties having stood in council, Assembly, Westminster and EU parliament elections. He topped the poll in the 2007 Assembly elections and was elected on the first count, having moved from the Foyle constituency to make the Sinn Féin breakthrough in South Antrim.
Mitchel became Sinn Féin's General Secretary in 2005, and before that was Party Chairperson since 1995.
McLaughlin's history of political activity began with the Civil Rights Association in 1968. He was also a leading member of the National H-Blocks Committee and has played a central role in formulating Sinn Féin's current peace strategy and was instrumental in the drawing up of our two peace documents, Scenario for Peace (1987) and Towards a Lasting Peace in Ireland (1992).
Mitchel's electoral odyssey began when he was elected to Derry City Council in 1985 and as an Assembly member for Foyle in the 1998 and 2003 elections. He was the Sinn Féin candidate for Foyle in the 2005 Westminster elections.
Mitchel is currently party Six-County spokesperson on the Economy and sits on the Committee of the Department of Finance and Personnel and Public Accounts Committee.


East Belfast
                        vote    % of poll
1998 Assembly    917    2%
2001 Westminster    1,237    3.4%
2003 Assembly    1,180    3.8%
2005 Westminster    1,029    3.3%
2007 Assembly    1,055     3.6%

Short Strand's Niall Ó Donnghaile is a University of Ulster politics graduate and is not only a fluent Irish speaker but also an ardent activist on behalf of Gaelic culture and language. He is a Sinn Féin Press Office in the Assembly.
Niall joined Ógra Shinn Féin when he was 16 but can now almost claim veteran status. Niall is a board member of the Short Strand Partnership and of An Droichead, a member of Short Strand Festival Committee, Member of the Belfast National Graves Committee and a member of Sinn Féin's internal housing advisory group.
You can follow Niall's blog at http://glormhicairt.blogspot.com/.


North Belfast
                        vote    % of poll
1998 Assembly    5,610    21%
2001 Westminster    10,331    25.2%
2003 Assembly    8,514    27%
2005 Westminster    8,747    28.6%
2007 Assembly    9,094    30.6%

In the 1996 Assembly elections there was little difference between the vote share of Sinn Féin, the DUP, SDLP and UUP. In the intervening elections the Sinn Féin vote has grown more than the other four parties and in 2007 the party retained its two Assembly members elected here.
Sitting Assembly member Gerry Kelly will be trying to close the gap further on the DUP and challenge Nigel Dodds for this seat.
Along with Martin McGuinness and Gerry Adams, Gerry Kelly is one of Sinn Féin's chief negotiators and was involved in producing the Good Friday Agreement, the Saint Andrew's Agreement and the recent negotiations at Hillsborough on the transfer of policing and justice powers.
Kelly is an Executive Minister with special responsibilities for older people and children's rights. He has been involved in mediation on conflict resolution in places such as the Philippines and the Basque Country.
Between 1990 and 1993 he took part in secret negotiations with representatives of the British government, attempting to establish a viable peace process. At constituency level, Gerry Kelly is involved every day in a large number of issues and campaigns ranging from housing, leisure facilities, investment and environmental issues to community safety.


South Belfast
                        vote    % of poll
1998 Assembly    2,605    6.4%
2001 Westminster    2,894    7.6%
2003 Assembly    3,933    12.6%
2005 Westminster    2,882    9%
2007 Assembly    3,996    13.2%

In 2003, Alex Maskey moved out of a safe seat in West Belfast to contest South Belfast demonstrated the flexibility and resilience of Sinn Féin's political representatives. Maskey is from Andersonstown in West Belfast was elected the first republican Mayor of Belfast in 2002 Alex was also the first Sinn Féin Councillor to be elected to Belfast City Council when he won a by-election in 1984.
Elected as a member for West Belfast in 1998 Alex was the party's Chief Whip since 2003 and has served on several Assembly committees including the Finance and Personnel Committee.
Alex is currently the Party's spokesperson on Policing and Justice and has represented Sinn Féin on the Policing Board since 2007. He is currently chairperson of the Board's Community Engagement Committee.
Having worked with many constituents, residents and community groups within South Belfast, Alex has a wide experience of the issues which face South Belfast people


West Belfast   
                        vote    % of poll
1998 Assembly    24,650    59%
2001 Westminster    27,096    66.1%
2003 Assembly    21,368    65%
2005 Westminster    24,348    70.5%
2007 Assembly    23,631    69.9%

West Belfast is the strongest Sinn Féin constituency in the Six Counties and the party vote share continues to grow, reaching just over 70% in 2005. With 4.5 quotas in 2003 the party is still looking for a fifth seat in 2007. The DUP won a seat here in 2003 with transfers from other unionist parties, how they fare this time around will be worth watching.
The electoral history of Gerry Adams begins with being elected to the Prior Assembly in 1982 and then returned as the Westminster MP in 1983, he held the seat until 1992 winning it back in 1997 and leading the Sinn Féin team here in the 1998, 2003 and 2007 Assembly elections. Adams was also returned as Westminster MP in 2001 and 2005.
Born in 1948 in West Belfast where he continues to reside with his family, Adams has been Sinn Féin President since 1983 in a political career that spans five decades and which he began as a civil rights campaigner in the late 1960s. Adams has published 13 books and currently writes  a bi-weekly blog for the Belfast Media Group.