15 April 2010 Edition
Call for universal single-tier healthcare system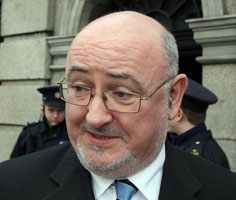 'Scrap plan for prescription charges' urges Ó Caoláin
Speaking on Wednesday at a conference in Dublin on 'Financing Universal Healthcare in Ireland', organised by the Adelaide Hospital Society, Caoimhghín Ó Caoláin TD, Sinn Féin Dáil leader and spokesperson on Health & Children called on Health Minister Mary Harney to scrap her plan to impose prescription charges on medical card patients. Legislation to impose the charges of up to €10 per month is due to be published this month. Ó Caoláin reaffirmed Sinn Féin's demand for a single-tier universal healthcare system funded from fair and progressive general taxation. We carry here an edited version of his speech to the Conference.


The healthcare system in this State continues to fail people because it is a grossly inequitable two-tier, public-private system. The standard of care is generally high but access to care is not based on need alone. Ability to pay is still a key determining factor in access to care both in terms of timely access and, in many cases, quality of care.
Sinn Féin and the Adelaide Hospital Society share the same objective in terms of universal access based on need alone. And we recognise that there has to be root and branch reform and that reform must be based on values. As the Society states: "Clarity about the values which determine health policy and which influence the implementation of health policy is crucial." Values identified by the Society are justice, caring and patient and public participation in healthcare. We certainly endorse those values.

Such values definitely influence the work of people throughout our health services but they do not determine and influence policy as decided at Government and HSE level. That policy is influenced by political expediency, short-termism, playing to privileged vested interests, a privatisation mentality, bureaucracy, careerism, a drive to centralisation and book-keeping. The result is an unholy mess both in terms of policy and delivery. The 2001 Government Health Strategy Quality and Fairness: A Health System for You was deeply flawed, but at least it had some coherence; it is now in tatters.
A perfect example of the valueless direction of the Government in health policy and delivery is the decision to undermine the General Medical Services Scheme by introducing prescription charges for medical card holders. I take this opportunity to call on the Minister for Health & Children not to proceed with the legislation to introduce such charges, which will hit the most vulnerable in our society.
Such a measure, along with the other cutbacks we have seen, serve only to deepen health inequalities and health inequalities kill. The late Susie Long, a cancer patient, was brave enough to highlight her own case nationally, not for personal redress but to expose the injustice of the system. As a public patient she had to wait seven months for vital cancer tests. As a private patient she would have got those tests in time – possibly in time to save her life. Before she died she summed up the position simply and clearly when she said:
"I believe that people should be seen on the basis of how ill they are, of their symptoms, not on how much money they have."
We need a universal healthcare system based on that fundamental principle of justice and equality as outlined by Susie Long. 
Achieving such a system in Ireland is one of the key objectives of Sinn Féin and our vision is set out in our policy document Healthcare in an Ireland of Equals. Our core policy proposals on Healthcare are:

A new universal public health system for Ireland that provides care to all free at the point of delivery, on the basis of need alone, and funded from general, fair and progressive taxation.
Fundamental re-orientation of the health system to adopt a central focus on prevention, health promotion and primary care (including mental health care), and on ultimately eliminating the underlying social and structural causes of ill-health and premature death, such as poverty and inequality.
Immediate establishment of a Health Funding Commission to report within a reasonable timeframe on the projected costs of the transition to an all-Ireland system of universal provision, taking into account all spending on health services under the current systems, including state funding and spending on private insurance, and to make recommendations on how the state can best harness these resources in the interests of more equitable and efficient delivery.

We seek to reverse the privatisation of the health services and phase out the role of the private for-profit sector in the provision of essential care. We see a new system on the island as a whole being under the aegis of an All-Ireland Strategic Health Executive with overall responsibility for ensuring national level co-ordination of the delivery of public health services.
You can see right away that Sinn Féin favours a public healthcare system funded from general taxation. This would clearly be a very different means of funding and management from the current two-tier public-private system and from the health insurance model favoured in the Adelaide Hospital Society Policy Paper Universal Health Insurance: The Way Forward for Irish Healthcare.
The key questions are: 'Which system would have the fairest and most effective outcome?' and 'Which system would be most sustainable?'
We believe that there is no more important area of State spending than healthcare. We believe we should aim for the best and most accessible and equitable healthcare and that that requires ring-fenced funding from general taxation and provision by a fully public system. Policy in such a system would be democratically accountable at national level and based on a network of community health partnerships at local level.

Of course a fully public system would have to be delivered in the context of fundamental tax reform that would ensure that the wealthy pay their fair share. And the development of a renewed public health system would also go hand in hand with a programme of economic recovery, involving a real strategy to retain and create jobs.
We would have a number of concerns about a funding system based on health insurance. The example of The Netherlands is often cited and on the surface it is attractive. However serious issues have been raised about the role of the insurance companies. In such a system the danger is that the interests of insurance companies and their share-holders may become a more important consideration than public health policy. An insurance-based system here, while genuinely proposed as a solution based on sound values, could be seized on for the purposes of profit with the public interest taking second place yet again. I would not trust any conservative political party in Government with such a system.
The Irish people need and deserve a better health system, based on our shared values of justice and fairness. I believe such a system can be delivered if we harness the talents of our people, both inside and outside the health system, and if we use the resources of the nation for the public good.