25 March 2010 Edition
Tyrone republicans prepare for Easter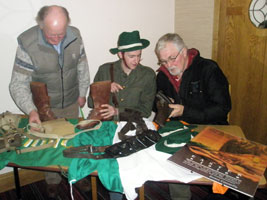 The Tyrone Sinn Féin Commemoration committee went online this week as republicans prepare to embark on a robust programme of activities to mark the 94th anniversary of the Easter Rising.
Speaking at the launch of the website, the committee's PRO, Declan Mc Aleer said:
"The Tyrone Sinn Féin Commemoration committee have a packed programme for Easter weekend.  This includes over 40 commemorations throughout the county, the opening of a museum in Coalisland, Easter murals, a photographic exhibition in Carrickmore and the 1916 street theatre in Carrickmore, which our members are busily preparing for.
"Given the large number of events and the realisation that more and more people access information online, we decided to launch our own website www.tyronecommemorations.com.  The new website enables us to communicate with a wider audience, particularly young people, who prefer this medium ahead of traditional forms of communication.
"The site includes a huge photographic gallery of republican mobilisations past and present, as well as details of the 2010 programme.  The site is relatively easy for browsers to navigate around, and one of the more innovative features is a link to the recently completed promotional video for Easter 2010.
"Tyrone republicans take immense pride in commemorating those who have laid down their lives in the cause of Irish freedom.  We are asking for everyone to participate in the events we have organised throughout the county.
"We are also calling on republicans to wear the Easter lily as the national symbol commemorating those who have died for Irish freedom in 1916 and in every generation since."