25 March 2010 Edition
An inspiring read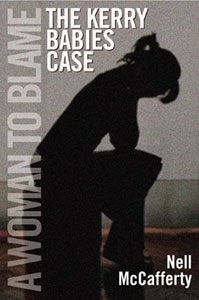 Book Review

A Woman to Blame: the Kerry Babies Case
By Nell McCafferty
Cork University Press

REVIEWED BY
ÁINE DOWNES

"Did she love this man or what he and other men were prepared to do to her?" These were the comments of Justice Kevin Lynch, tribunal judge and head honcho of the all-male tribunal which was set up to probe into every aspect of Joanne Hayes's personal life.
Set against a backdrop of the first abortion referendum, in a time when women existed for making babies and were locked away if they did so before marriage, this new edition of Nell McCafferty's seminal book tells the story of Joanne Hayes, a young woman from Kerry who fell foul of the patriarchy and had her life turned upside down by events which had nothing to do with her.
At 24 years of age, Joanne concealed the birth and death of her baby. Subsequently she "confessed" to the murder, by stabbing, of another baby. All the scientific evidence showed that she could not have had this second baby. The Gardaí, nevertheless, insisted on charging her and, after the charges were dropped, continued to insist that she had given birth to twins... conceived of two different men.
A tribunal of enquiry was then set up to investigate the behaviour of the Gardaí in obtaining the "confessions"; this of course descended into farce and a frantic attempt by the men in charge to justify their actions and wild accusations. A whole host of male experts were called to pick apart every aspect of Joanne's private life, including the affair she had with married man Jeremiah Locke.
Six months of relentless questioning ensued. Joanne, traumatised and exhausted, was bullied and coerced to the point where she couldn't take it any more. Much of the time she was sedated and gave her story semi-conscious from the podium.
Truly the men were looking for a woman – any woman would do and the woman unfortunate enough to be in the wrong place at the wrong time was young Joanne Hayes.
Women (and men) of Ireland, incensed by the misogynistic spectacle which was the Kerry Babies tribunal, united around Joanne in support. Busloads of women (including the Sinn Féin Women's Department) kept vigils outside the courthouse, while women from all over Ireland sent yellow flowers and letters to Joanne to show their support.
Reading this book is like reading the account of a passionate and angry witness. How could a woman be treated like this? I ask. But I realise that such treatment of women was not and is not at all uncommon in a nation which has long been subject to the patriarchal and anti-women influence of the Catholic Church.
Still, there is no justice and no real apology to all those women who survived incarceration, sometimes for life, in Magdalene Laundries.
A thorough and unbiased review of the barbaric practice of symphisiotomy has been refused. This was a discredited childbirth practice where women had their pelvic bone severed permanently as an alternative to caesarean section, in order to allow them to continue having babies.
Where is the justice for these women and for Joanne?
I'm 22. Joanne was 24. I can only imagine what it must have been like for her to first of all lose her baby, and then to be accused, bullied, harassed, humiliated and marched up to the courthouse day in, day out for six months, having to relive the nightmare every single day.
Women like Joanne gave Irish women the strength to overcome all the obstacles and to fight back against forces which wanted women seen and not heard.
We've come a long way but we're not quite there yet. There are still issues of inequality in pay, dire maternity services, and lack of universal childcare and breast cancer services.
I hope this book inspires more young women to keep up the fight as it has inspired me.
As Nell McCafferty said herself "we are not fully healthy yet, but we are getting there and it is wonderful".