25 March 2010 Edition
Basque Abertzale Left calls for commitment to democratic process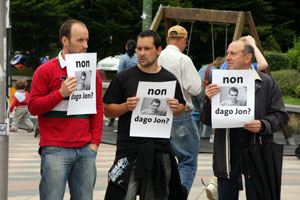 BY EMMA CLANCY

Following the fatal shooting of a French police officer in Dammarie-les-Lys near Paris on Tuesday 16 March, the Basque Abertzale Left expressed its sorrow for the incident and called on ETA and the Spanish and French states to make clear commitments to reviving the democratic process.
It appears that the death was caused during a shootout that resulted when police officers stopped a car carrying several ETA members. The fatal shooting marks the first time a French police officer has been killed by ETA since the beginning of its armed campaign more than four decades ago.
Following months of discussion and debate, a large conference of Abertzale Left representatives, including from Batasuna, made a public statement in February stating their commitment to using "exclusively political and democratic means" to advance their political objectives – in which the democratic will of the Basque people would be respected "in a complete absence of violence and interference".

'Ratify position'
Responding to the shooting of Jean-Serge Nérin last week, the Abertzale Left said the death appeared to have resulted from a chance encounter between ETA and police officers.
It pointed out that the incident followed the recovery of the body of ETA activist Jon Anza, whose disappearance in France last April is believed to have been caused by Spanish security forces, with the collaboration of the French security forces.
The Abertzale Left said both cases showed the urgent need to build a new scenario in Euskal Herria (the Basque Country) based on its initiative launched in February.
 "Despite not being a premeditated action by ETA, we must not ignore the seriousness of what happened yesterday," the Abertzale Left statement said.
It called on ETA to "ratify its position in favour of developing the democratic process presented by Abertzale Left as expressed in its statement" earlier this year.
The Abertzale Left also said: "All actors, but especially ETA and the Spanish and French states, must take clear and specific commitments regarding the process."
ETA had issued a statement in the days before the fatal shooting in which it expressed its "readiness" to take the necessary steps on its part to resolve the conflict. It condemned the Spanish government for "opting for repression" in responding to attempts to create a new scenario.
"In this journey there is a need for all actors to take strong steps and commitments," ETA's statement said. "The democratic process needs the willingness and commitment of all sides, including the Spanish government. ETA states its hand is open to working together."
In the wake of the Abertzale Left resolution in February, Sinn Féin President Gerry Adams called on the Spanish government to "examine closely the language, strategy and direction now being taken by Abertzale Left".
"There is a real opportunity for peace emerging and for a fundamental change in the relationship between the Basque Country and the Spanish state. There is an onus on everyone to grasp this in good faith and to make every effort to bring an end to conflict in that region," he said.

Jon Anza's body found
Responding to the discovery of Jon Anza's body last week, Sinn Féin MLA and spokesperson on international affairs, Raymond McCartney, said there was widespread concern in the Basque Country that the Spanish state played a role in his death.
"Jon Anza's family and support organisations in the Basque Country are raising serious questions regarding the official report into Mr Anza's death stating that he died of ill health," McCartney said.
At the time of Anza's disappearance there were reports of several other kidnappings and interrogations of Basque pro-independence activists and ex-prisoners, prompting fears that the Spanish authorities were resuming the Dirty War actions of the 1980s.
McCartney said the Spanish state had "already been in the dock regarding the extra-judicial killings of Basque citizens" and called for an independent inquiry into the case.
"The Spanish government must not revert to outdated and illegal practices and instead grasp the opportunity that is currently being built upon by the Abertzale Left for dialogue to resolve the issues of conflict in the Basque Country," he said.
Referring to the discovery of Anza's body and the fatal shooting of the French police officer, the Abertzale Left said: "Now more than ever we must strengthen the democratic process initiated, a process based on the popular activation and accumulation of forces and driven exclusively by political and democratic means and in the absence of any violence."
Public meeting on extradition case
An emergency public meeting regarding the extradition of Iñaki de Juana to Spain will be held next Friday night, March 26, at 7.30pm at Caulfield's Bar in west Belfast. Speakers including a Sinn Féin MLA Paul Maskey, Michael Culbert from ex-prisoners' support group Coiste, and Iñaki de Juana's legal team will address the meeting. Veteran Republican activist Joe Austin will chair the discussion. 
The Belfast Recorder's Court ruled on 1 March that the extradition of Iñaki de Juana to Spain to face 'glorifying terrorism' charges is to proceed. His appeal to the High Court will be heard in the coming weeks.  
This community meeting aims to highlight the grave miscarriage of justice that is unfolding, and to show that the local community is rallying behind Iñaki. The discussion will be followed by a solidarity night, with local musicians performing.  
Speaking before the meeting, Paul Maskey said: "This decision to extradite Iñaki de Juana is entirely wrong and is an extremely negative move. 
"At a time when the Abertzale Left in the Basque Country are engaging in dialogue to secure a peaceful and democratic framework towards the resolution of the conflict, we see the Spanish authorities pursuing punitive and unconstructive actions such as this.
"Iñaki is accused of writing a letter that was allegedly read at a rally and contained the Basque phrase 'Aurrera bolie' ('Kick the ball forward'). The Spanish authorities claim that this phrase constitutes 'glorifying terrorism'. Iñaki was not present at this rally and denies writing such a letter. The Spanish police admit they cannot produce it.  
"It is our view that Iñaki's extradition, based on such spurious charges and a lack of evidence, would represent a grave miscarriage of justice. Iñaki spent 17 years of his 21 years in prison in solitary confinement and endured several hunger strikes in protest at prison conditions and attempts to lengthen his sentence. There are now serious concerns for Inaki's health and wellbeing if he is forced to return to the Spanish prison system."
Maskey urged the local community to come along to the emergency meeting "to find out more about the case and how we can stop the extradition from proceeding, and to show that we stand behind Iñaki as he appeals against this vindictive attack on democratic rights".