25 March 2010 Edition
Wolfe Tones lined up for massive West Belfast rebel night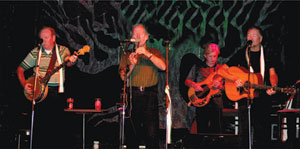 World famous Irish rebel group The Wolfe Tones will headline the 'Let the People Sing' concert in the Andersonstown Leisure Centre on Easter Saturday night, 3 April.
Well known Glasgow rebel band Shebeen and Bizardunak, the 'Basque Pogues', have been added to the bill in what promises to be the biggest rebel night that West Belfast has ever seen.
In early February, The Wolfe Tones revealed that they would be coming to West Belfast for the first time in over 20 years.
The group, who have a large fanbase worldwide, are famed for the Celtic Symphony and The Ballad of Joe McDonnell and their rendition of A Nation Once Again was voted the number one song of all time in a BBC World Service vote.http://en. wikipedia.org/wiki/Wolfe_Tones - cite_note-0
Shebeen are regular visitors to West Belfast and attract large crowds wherever they play, with their lively mix of Irish rebel music and Celtic songs.
The band, from the east end of Glasgow, have played to packed venues in the USA, Germany, Italy, Spain, England and many other countries.
Lead singer Alan Quinn, speaking about the concert, said:
"Shebeen have been coming to Ireland, and particularly West Belfast, for many years now.
''The atmosphere, the passion and the people in West Belfast are second to none and, with The Wolfe Tones making their first appearance in over 20 years, this is sure to be an electric night.''
Bizardunak, who have been nicknamed the 'Basque Pogues', will kick the night off and are very excited at the thought of playing in West Belfast.
Band member Jose Mari Carlos said: "We have always loved Irish music. The music of bands like The Dubliners, the Clancy Brothers, and The Pogues has been our daily music, our soundtrack.
"Playing along with The Wolfe Tones is something amazing. Ten years ago many of us attended the Irish band's gig in our city Irunea/Pamplona. It will be fantastic to now play alongside them.
"Our gigs are very chaotic. We all come from the rock and roll scene and that's obvious when we are onstage.
"Many people are surprised by our attitude on the stage but we want to perform like the young Pogues and Iggy Pop. West Belfast is a place we have always wanted to play."
Tickets for the event are available from the Art Shop at 55 Falls Road, Caife Feirste based in the Cultúrlann, the Féile an Phobail office opposite the top of the Donegall Road and the Andersonstown Social Club (PD).
Tickets are selling out fast and people are being urged to buy their tickets now to avoid disappointment.