7 December 2006 Edition
Plaque unveiled to 1916 Volunteer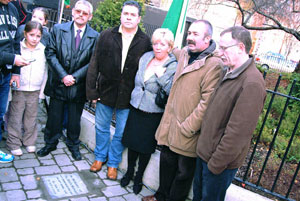 Sinn Féin Dublin City Councillors Nicky Kehoe and Dessie Ellis with relatives of Volunteer Seán Howard on Saturday, 2 December at the unveiling of a plaque where he died on Dublin's Church Street during the 1916 Rising.
Councillor Kehoe thanked those who donated funds and helped in the organisation of the event including the Howard family, the Carroll/Ashe Cumann Sinn Féin, and Dublin City Council Paving Department and Arts and Culture Department led by Phillip Maguire.
Seán Howard, joined the Volunteers in 1915. He was just 17 when he was fatally wounded at Church Street during the 1916 Rising.