7 December 2006 Edition
MEP welcomes Naomh Fionnbarra hurlers to EU Parliament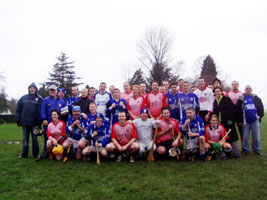 Last weekend on a field just north of Brussels, close to where Napoleon met his Waterloo, another battle took place when a delegation of hurlers from Naomh Fionnbarra GAA, Cabra played the newly formed Brussels hurling team. The event was organised by Mary Lou McDonald MEP who gingerly threw the sliotar in and the two teams got tore into each other.
The match continued through wind, rain sweat and tears by which time the host team had been generously beaten. Not content with having braved the elements of a Belgium winter for one match both teams then mixed sides and played  for another 60 minutes. Speaking after the match in the warm sanctuary of a local hostelry where both teams did some post match analysis Mary Lou said: "It was great to see the group from Naomh Fionnbarra in Cabra clash the ash with the ex pat community of Brussels. Naomh Fionnbarra has served the wider Cabra community for 60 years through the promotion of the national game and the 'Europe Select' of ex-pats which includes players from Kenya, Germany and Canada is testament to the ex-pat community in Brussels that  have established and sustained Belgium's only hurling and camogie club."
The teams ended the celebrations with a gift of hurles being presented by Naomh Fionnbarra to their Belgium counterparts who admitted that they were a perfect gift as they weren't readily available in downtown Brussels.
Naomh Fionbarra's  trip to Belgium ended on Monday, 4 December with a visit and tour of the European Parliament.