7 December 2006 Edition
Letter to the Taoiseach By Barry McElduff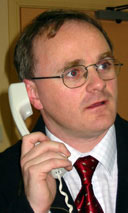 I hosted five visitors to Stormont Parliament Buildings last Tuesday, 28 November.  It's not really a Parliament but I'll push that issue to the one side for the moment in the interests of 'the big picture'.
I know a whole lot of people who are very anxious to see a proper drawing and not just a sketch of this big picture.  I suppose that we will just have to wait and see.
My visitors to Stormont live in Dundrum, Co Dublin and they came North on the train for a day's shopping and the visit to Stormont.  They really enjoyed themselves but encountered a few hurdles in the process.
One of these was the refusal to accept euros in Stormont's souvenir gift shop.  The group was particularly interested in purchasing merchandise which had the Stormont logo, including the now-famous Stormont fudge.
"Sorry, we cannot accept euros.  We can, however, take laser or switch."
This really flummoxed my friends from Dublin who had visited Budapest and Prague earlier this year.  No such problems in these cosmopolitan centres of enlightenment 'on the mainland'.  One of the visitors pointed out that the golden rule of retail is that you should try to extract money from the customer's pocket and secure it's relocation to your till.  Unfortunately, they had to leave Stormont empty-handed as they caught the train back to Dundrum.  I hear that Dundrum is a great spot for shopping.  By the way, guess what the Belfast taxi driver said? 
"That'll be £12.50, please."
Taoiseach, how far are you on with securing a single currency for Ireland?  Don't listen to those who say that there is no inconvenience with the two currencies.  Not everyone carries plastic all of the time.
In fact, organisations such as the Irish Central Border Area Network (ICBAN) and the North South Ministerial Council (NSMC) have carried out studies on the 'Obstacle to Cross Border Mobility' which is two currencies in one small country.  These studies show that, for example, bank charges are significantly higher for cross border transactions than for business conducted within the same state.  This is particularly felt by business and by workers along the border who transfer funds and attract charges in both the remitting and receiving banks.  In practice, this has meant that many businesses and workers along the border corridor operate dual bank accounts and do not bother to transfer funds between their accounts through the banking system. 
There are also serious difficulties if one tries to access mortgage facilities on moving from North to South or vice versa. The NSMC discovered that people who have moved from the South to the North have had difficulties in obtaining a mortgage because all of the banks have indicated that they had to live and work in the North for six months. This was despite the fact that these same individuals had permanent jobs in the North and banking records in the South.
Taoiseach, you are bound to have some influence over banks.  Is there anyway you could intervene to ensure that all banks recognise employment on an all-Ireland basis? 
Among the most significant barriers encountered by people are the taxation implications of living and working in two states.  This is a situation made worse by the general lack of information about entitlement to benefits, social security, pension and tax advantages. 
I'll leave it with you.
Is mise le meas
Barry McElduff
NB - Bertie Ahern can be contacted on (00353) 1 6194020 or email [email protected]  Address: Office of the Taoiseach, Government Buildings, Dublin 2