7 December 2006 Edition
O'Hanlon and Sabhat to be remembered in commemorative booklet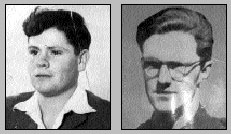 The Shannon rushes down 'neath Sarsfield Bridge,
The curlew shrieks it's cry o'er Monaghan plain:
Feargal and Seán in death have forged a link,
To make this land a nation once again.
January 1 2007 will mark the 50th Anniversary of the deaths of IRA Volunteers Feargal O'Hanlon and Seán Sabhat and as part of a series of events to commemorate the men The Feargal O'hAnnluain and Sean Sabhat Commemorative Committee are launching a commemorative booklet.
Titled The Pearse Column and the Brookeborough Raid the booklet will be released this coming Friday 8 December and details the events surrounding the deaths of the two volunteers as part of a raid on the RUC barracks in the Fermanagh village of Brookeborough.
As well as the booklet launch Friday night's events will include a lecture by Dr Ruán O'Donnell, a leading historian and lecturer on Irish history. O'Donnell will outline the events of the Brookeborough raid as well as other raids along the Fermanagh border in the course of the IRA's 1956 to 1962 border campaign which was code-named Operation Harvest.
Special guest speaker on the night will be Pádraigín Úi Mhúrchadha, a sister of Feargal O'Hanlon, and who currently represents Sinn Féin on Monaghan County Council.
The Pearse Column and the Brookeborough Raid will be launched in the Donn Carragh Hotel, Lisnaskea, County Fermanagh on Friday night at 8pm and will be followed by a function in McCaffrey's Bar afterwards.
• For further information call 04867723986 or 028 67 723986.