7 December 2006 Edition
Skills training: Successful programme continues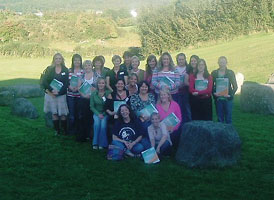 Women activists prepare for the future
BY ARAN FOLEY
Last weekend witnessed the second of two women's skills training sessions, organised by Sinn Féin at the Tí Chulainn Cultural Centre in Mullach Bán, County Armagh.
The sessions have provided training in media presentation and public speaking.
Positive feedback from the first session in October identified the problem of a lack of structured and regular training.
"We are empowering our activists to deal with the challenge of building an Ireland of equals. It is in all our interests as republicans to have available as many skilled activists as we can, as we engage with those who oppose that vision", explained Eibhlín Glenholmes, National Co-ordinator for Gender Equality within Sinn Féin.
"We are in a new era in many ways, and we are at a stage now where we are preparing for the future. We are preparing for the inevitable - preparing to take power", she said.
The success of the first session was illustrated by the amount of calls Glenhomes received asking to participate in the second. Women activists particularly welcomed the opportunity to participate in training together rather than in isolation and it was decided to set up an internet networking scheme whereby women activists could keep in touch.
Four main barriers to the progression of women in the party, emerged at the training sessions. The first barrier was financial, as in a lot of cases women in the party tend to be in part time work because of other commitments, mainly childcare. This led to the identification of the second major obstacle - the lack of adequate childcare facilities. The third barrier was the issue of building up women's confidence. Where they are under represented in the party women often find themselves isolated within local structures. The last problem identified was the strong male culture that has emerged because of the predominance of men in the party.
Last weekend's session was well represented by each Sinn Féin Cuige area and saw the women activists put through the motions of being interviewed on film and participating in mock panel discussions.
The aim of the training programme is to produce more local women leadership, candidates and local representatives. The next training session is  due to take place in early spring. In the mean time a 15 page document has been submitted to the Ard Comhairle for ratification on the 15 December.