7 December 2006 Edition
Hunger Strike 25th Anniversary Concert: Fitting finale to year of remembrance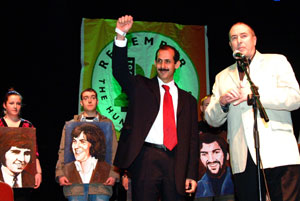 'If I can't dance, I don't want to be part of your revolution'
Cuban Ambassador to Ireland, His Excellency Noell Carrillo, was given a rapturous welcome by those attending last Saturday's concert in Dublin organised by the 1981 Hunger Strike 25th Anniversary Committee.
Carrillo paid tribute to the heroic sacrifice of the 1981 Hunger Strikers which he said had brought Ireland and the Irish struggle to the attention of people in Cuba.
In 2001, on the 20th anniversary of the Hunger Strike, the Cuban people erected a monument in memory of those who died in the H-Blocks. And this year, as part of the 25th anniversary events former Hunger Strikers, Mary Doyle and Raymond McCartney travelled to Cuba to rededicate that monument.
Former Hunger Striker Laurence McKeown who was compere for the evening in the Ambassador Theatre, said the presence of the Cuban Ambassador was "an opportunity for us to thank his people and his President, Fidel Castro, for the manner in which they stood shoulder-to-shoulder with us during those dark days in 1981. And on a personal level, to voice my own admiration for a country and a people who have been an inspiration to us and to oppressed peoples around the world."
Saturday's concert was billed as a Celebration of Remembrance and the mood matched the theme as those who attended were entertained by artists such as Frances Black, Karen Casy, Rónán Ó Snodaigh and Willie Byrne.
The event was a fitting finale to a year of remembrance for those who died on Hunger Strike in the H-Blocks of Long Kesh and those other republican hunger strikers who went before them.
Families
Laurence McKeown, asked the audience at Ambassador Theatre to extend a special welcome to the families and friends of those who died on hunger strike - from the family of Tony D'Arcy who died on hunger strike in 1940 to the family of Mickey Devine.
McKeown said that in the years following the Hunger Strike, republican prisoners continued to build on the sacrifice made in 1981 and the previous years of the protest. They eventually got access to education and to books - one of the 5 demands. He said that one of the books that made an impact on him then was the writings of Emma Goldmann, a feminist anarchist from the turn of the 20th century. In one of her letters to Lenin, Goldman had said, "If I can't dance, I don't want to be part of your revolution" and McKeown thought the quote appropriate for last week's concert "as we celebrate the lives of those who loved to dance, to sing, to laugh, to write poetry, to make music  - and who were also part of a revolution.
"And when we celebrate their lives we also recall those engaged in the struggle on the outside and without whom our protests behind prison walls, whether in Armagh Women's Prison or in the H Blocks, would have been worthless. People who day after day faced the violence of the RUC and British Army and here in Dublin, the Gardaí. And we remember those who died in that resistance outside the prison walls as well as within them", he said.
McKeown said it was fitting to celebrate through music and song because for many centuries it was through that medium that the Irish people kept alive our history of rebellion and resistance.
"At a time when accounts of republican Ireland could not be read about in books, could not be found on the shelves of our libraries, could not be heard on the airwaves, it was through ballad and song that the deeds of our patriot dead were recalled.
"We've come some distance from those days but we still need the songs, the music and the rhythm to remind us of current injustices in Ireland and elsewhere in the world and to inspire us to continue our struggle for a different society - for a different world", he said.
Year of events
"This year has seen numerous events the length and breadth of Ireland and abroad to commemorate the Hunger Strikers and to recall that period. The 1981 exhibition of photos, comms and artefacts from that period travelled throughout Ireland and also to England and Scotland. And I'd like at this point to say a special thanks to Seando Moore for organising the exhibition, and to Flash McVeigh and Bik McFarlane who arranged for speakers to attend the numerous events. And in mentioning those individuals I don't in any way wish to take away from the countless others who were involved in making this year the success it undoubtedly was", said McKeown.
"Those events were held in universities, in colleges, in schools, in town halls, in Liberty hall here in Dublin, in Leinster House, in community centres, theatres and elsewhere. There have been monuments erected, murals painted, documentaries made, interviews given, books and biographies published, films shown and talks given. In Long Kesh itself, visits were made by families, friends, comrades and the general public, to the prison hospital where the hunger strikers died. And there have been similar events held in other countries. In France, in the Basque country, in Italy, Australia, the US, and in Cuba", he said.
Concluding, McKeown said that the best way to remember those who died on hunger strike and all those who had sacrificed so much for the struggle was to help make the vision they died for a reality in our time.