7 December 2006 Edition
Kasrils explores issues around truth recovery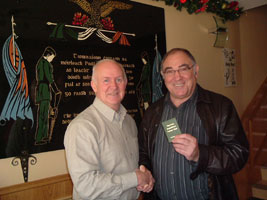 South African government minister Ronnie Kasrils met with a group of people involved in the area of truth recovery, collusion and dealing with the past when he visited West Belfast this week.
At the informal meeting in the Felons Club on Tuesday 5 December, representatives of An Fhirinne, the organisation which campaigns on the issue of collusion between the British government and unionist paramilitary deaths squads, and members of Relatives for Justice which represents up to 400 families of people killed by the British state attended the meeting.
On his arrival Kasrils was met by Seamus Finucane, brother of assassinated human rights lawyer Pat Finucane and Jackie McMullan.
 Kasrils quickly warmed to the theme of Truth Recovery and the experience of the ANC in dealing with the legacy of apartheid and the anti-apartheid struggle in South Africa.
"People need closure", said Kasrils as he explained how Nelson Mandela first mooted the idea of the Truth and Reconciliation Commission with representatives of the apartheid regime.
The ANC member added that it was his view that most people were happy to embrace some sort of process that gave them closure and gave them some knowledge of how their loved ones were killed in the struggle.
Kasrils, who is the Minister for Intelligence in the South African government, gave his audience some interesting insights into the mindset of the South African intelligence services and the Special Branch operatives whom he has dealt with since the ANC came to power after the 1995 elections.
"They are not a monolith. They had their own internal divisions and we exploited these", he stated.
He described how he met with a senior member of the death squads set up by the Apartheid government. The man had reached the rank of colonel when he was approached and asked to carry out undercover operations against ANC bases in the 'Frontline States' that bordered South Africa.
The colonel told Kasrils during a meeting that when the White Regime announced they were negotiating with the ANC he realised that he had been told lies about the struggle in South Africa and what it was about. According to Kasrils the man was very disillusioned by what he had been sent out to do.
In conclusion Kasrils acknowledged that the South African Truth and Reconciliation Commission didn't provide answers for everyone however he went on to say that it was part of a process that allowed a lot of people to find closure for issues surrounding the deaths of their loved ones and therefore from that point of view it was beneficial.