7 December 2006 Edition
Stormont: Unionists encouraged to take example of United Irishmen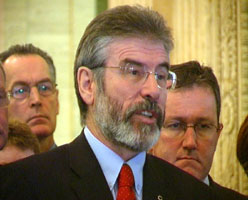 Adams opposes 'any British government interference in Irish affairs'
The Six County Assembly last Monday discussed a UUP motion condemning interference by British Direct Ruler, Peter Hain in the running of the Assembly, with particular reference to events at Stormont on Friday, 24 November. A Sinn Féin amendment sought to widen the scope of the amendment to cover all interference in the Assembly.
Speaking to the amendment, Sinn Féin President Gerry Adams said the UUP motion was part of that battle for the hearts and minds of unionists.
He said republicans and nationalists would take pleasure out of any motion critical of a British Secretary of State but that it didn't go far enough.
"British Secretaries of State, whatever may be thought of them at a personal level, are a breed of politician who have been given the task of promoting and defending Britain's self-interest in Ireland.
"They do this over and above all other interests and especially the needs of the people of the North or of this island. Whether it be on the rates issue or water charges or the decline in our rural communities, or the recent Oireachtas report on Collusion, or poverty and so on. The current holder of this office has already attracted a deserved reputation for bad judgment
Pandering to unionism
Many of Mr. Hain's decisions including the appointment of the Victims Commissioner and the Parades Commission, his opposition to an Irish Language Act, and his creation of the Hain Assembly and now the Hain transitional Assembly, have all been about pandering to unionism, and especially the DUP.
Despite all of this do the unionist members of this chamber feel any greater affection for Mr. Hain than they did for any of his predecessors? Obviously not. And there is nothing new in that.
Whether as British Lord Lieutenants in Dublin Castle or as British Secretaries of State in Stormont Castle, Britain's colonial viceroys have all used the usual techniques of divide and conquer, bribery, threat, and corruption to promote British interests. When those interests coincide with the interests of unionism they are partners. When their interests don't coincide, then British government interests as opposed to Irish unionist interests take priority. That's the truth of it."
Adams said the British government had no real loyalty to the unionists.
"We on these benches labour on in the hope that colleagues on the seats opposite will one day liberate themselves and realise that none of us need British interference of any kind in our affairs', he said.
United Irish Society
Adams commended another resolution to unionists - that which was passed at the first formal meeting of the United Irish Society in Belfast just 200 years ago. It said: 'That the weight of the English influence in the government of this country is so great as to require a cordial union among all the people of Ireland to maintain that balance which is essential to the preservation of our liberties and the extension of our commerce.' Gerry Adams pointed out that most of those involved in that enterprise were Presbyterians.
He went on: "Last Friday the DUP met at Templepatrick to debate their strategy for the time ahead. Going into that meeting Ian Óg Paisley appealed to his party to remember that republicans are 'the real enemy'.
Presbyterian republican history
"Templepatrick has a proud Presbyterian republican history. Two hundred years ago a force of Presbyterians left Mallusk and Templepatrick, led by Henry Joy McCracken, to take Antrim and begin the process of creating a new society based on the principles of equality, fraternity and liberty. One of its leaders Willie Orr is buried there.
"They were defeated, but the sentiment for which many of those Presbyterians gave their lives is as relevant today as it was then; 'by abolishing the memory of our past dissensions and by substituting the common name of Irishman (or woman) in place of Protestant, Catholic and Dissenter.'
"I am sure that those Presbyterians would view this British Secretary of State with just as much scorn and derision as they did the then Lord Lieutenant of Ireland Lord Cornwallis, whose defeat at Yorktown by the American forces under Washington won their War of Independence.
"This morning's motion, as I have already noted, is not about Peter Hain.It is about the antagonism and competition between the UUP and the DUP.
"Sinn Féin has proposed a much wider amendment because we are against any British government interference in Irish affairs.
Like the Presbyterian Republicans of old who gathered at Templepatrick we are for 'a cordial union among all the people of Ireland to maintain that balance which is essential to the preservation of our liberties and the extension of our commerce."