7 December 2006 Edition
Kasrils visit: The ANC and the transition from racist state to democracy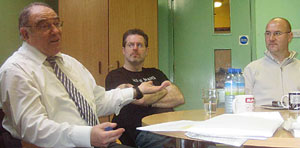 ANC leader briefs Belfast activists
BY PEADAR Ó BRAONÁIN
Senior ANC leader Ronnie Kasrils, who is also a South African Government Minister, spoke of the transition from a racist state to democracy when he visited Belfast on 4 December.
The African National Congress and Communist Party member spoke to activists at a meeting hosted by Sinn Féin's Cúige na Sé Chontae at the party's offices in Sevastopol Street.
Accompanied by Mohammad Timol of South Africa's High Commission in London and by André Zaaiman of the Ministry of Intelligence, the minister was stopping over on his way back from a trip to the Middle East to receive a political update on the current situation in Ireland. He will report this back to the ANC leadership and President Thabo Mbeki.
He was to hold separate meetings later with Sinn Féin president Gerry Adams and Direct Ruler Peter Hain.
"Political power doesn't solely come from the barrel of a gun," Kasrils said.
However, it was only from the mid-1980s that South Africa's liberation movement prepared to talk to the Apartheid regime. Talks with secret service personnel formed a bridge with the Apartheid leader PW Botha.
Botha "was so like Ian Paisley that it's quite incredible", said Kasrils.
Initially, they had to interact in secret and keep things out of the media - otherwise "then they create an agenda and they sensationalise".
Communists in South Africa were a particular target of the regime but they survived and flourished "because they understood the power of nationalism", Kasrils added.
There was fierce debate in the leadership and in the military camps, said Kasrils, who was a leader of the ANC military wing MK. However, despite there being a government policy to create divisions in the ranks, there was no major schism.
"We'd always emphasised that struggle comes in various methods," Kasrils said.
The minister emphasised the importance of unity and of trust in leaders - not a blind trust but a trust based on those leaders' track record.
Kasrils recalled a visit to Vietnam when he met General Võ Nguyên Giáp.
The general quoted Hô Chí Minh to the visitors. "Hô Chí Minh would always say to us - 'Through unity is victory.' And Hô Chí Minh used to teach us   - 'The greater the unity, the greater the victory.'"
When explaining this conversation with the Vietnamese general on a recent trip to Damascus, where he met various Palestinians groups, some Palestinians began to get impatient and asked: "Unity and...?" However, Kasrils noted that General Giáp did not mean that unity alone was enough but it was only with the achievement of unity that you could really start talking about struggle and tactics.
"It doesn't mean that it's unity at all costs," Kasrils added, referring to the original split in modern republicanism in 1969.
Another key element of South Africa's liberation struggle was isolating the "heart of reaction", Kasrils said.
"In isolating, we could create splits and fissures and divisions," he said.
Isolate the main enemy and direct and concentrate your blows, he added.
The enemy should be isolated from its allies, while you maximise your own unity and alliances, the minister said.
"We don't come here knowing all the answers. There are many areas of popular struggle that we learn from you," Kasrils said.
"All struggles do have certain elements in common for sure but no two struggles are the same."
There is a need for flexibility and a need to understand when the time is right for a ceasefire and when the time is right for initiatives on weapons and other decisive risks in struggle, he said.
Kasrils emphasised the importance of political communication in the struggle, with radio broadcasts playing a big part in spreading the ANC message.
"Every single person has the chance to speak" at meetings, Kasrils said, emphasising the democracy of the movement.
"You come away feeling: 'Well, I've had my say'" even if disagreeing with the decision taken, he said.
The Communist Party member said businesspeople played a significant role in the downfall of apartheid.
"Business is much more far-seeing because it hits them in the pocket," he said.
Entrepreneurs could see that the sanctions-hit Apartheid regime was not good for business.
By the late 1980s, sanctions were beginning to affect various banking groups particularly in the United States because of the power of the black vote. "It all began to coalesce," the minister said.
Speaking of the transition to democracy, Kasrils said: "We really had to keep our nerve."
Sinister forces organised counter-revolutionary violence, including bloody attacks on train passengers and in the townships. The liberation movement had to create its own defence units even after the August 1990 suspension of the armed struggle.
"The police were not defending our people," Kasrils said.
Even now, there are still problems with the judiciary, he added. Judges cannot be trained overnight and, although there are a lot of black attorneys and advocates, they are in a minority, he said.
South Africa has a population of 45 million people, including five million whites. Kasrils said the ANC always stressed that white people as such were not the enemy.
In South Africa today, the group that is most liable to change is working-class people from among the Afrikaaners, said Kasrils. They saw their roots as being in South Africa, unlike certain white people who have British passports or who look to Israel.
Now there are massive levels of recruitment in the freedom movement but "you must have your educators and your educational programme", Kasrils said. There is a need to assess who you are recruiting and avoid provocateurs joining.
"We still have elements of reaction coming into our ranks," Kasrils said.
All activists present at the meeting were inspired and impressed by the in-depth comparative presentation provided and the level of political engagement by the three visitors.