20 July 2006 Edition
Social Partnership: ICTU leadership has failed in talks objectives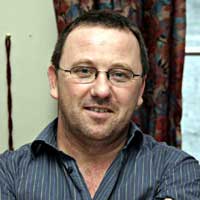 Proposed new deal is bad for workers
As union members debate the latest partnership deal in the 26 Counties - Towards 2016, EDDIE CONLON, Former Honourary Secretary of the Teachers' Union of Ireland calls for the deal to be rejected arguing that it will lead to further privatisation, contains no commitment to public ownership, will not stop the erosion of pension schemes, and imposes further restrictions on unions.
The Ireland of 2006, after nearly 20 years of social partnership, has booming profits, high productivity, restrained wages, high prices and low levels of workers' rights. We also have low levels of public spending and the highest levels of inequality in Europe. The latest proposed partnership deal will change none of this. It is to be implemented over 10 years. The trade union leadership has effectively entered into coalition with the most right wing government in the history of the state. If we decide to elect a new government next year it can say that it is abiding by this agreement and refuse demands for better public services and action against poverty. The independence of the movement has been seriously compromised. The idea of a 10 year deal was never debated within unions.
Pay, inflation and growth
The pay increase on offer barely covers the rate of inflation. There is a six month pay freeze in the public sector. The deal offers 10% over 27 months given an annualised increase of slightly over 4%. Inflation is currently running at 3.9%. Irish price levels are already 22% above the EU average and the recent rise in inflation is substantially above the EU average of 2.2 per cent. Inflation figures do not include the cost of housing. Figures just published show house prices have risen by 270% in the last decade - nine times that of inflation.
This deal was to be the payback for workers contribution to the boom. The wage share of national income has fallen from over 70% in the 1980s to about 55% today. This huge transfer of wealth to employers will continue.
Ireland is one of the most unequal societies in Europe. Social partnership was supposed to protect the low paid. In fact over the period of social partnership the risk of poverty for workers has increased.
This deal offers the low paid less than €2 extra per week. Recent figures published by MANDATE show that in the last 10 years wholesale and retail sector profits increased by 338 % while wages went up by 126%.
Cost increasing claims are banned and workers are locked into binding arbitration if a dispute arises as to what is "normal ongoing change". While there is an inability to pay clause for employers there is no right for workers to claim ability to pay more.
Assault on public sector workers
Public sector workers will have to give substantial productivity in exchange for pay increases that barely cover inflation. Restrictions on public sector workers are increased. Pay increases can be refused if workers do not co-operate with change and modernisation.
Almost 30 pages of requirements for different sectors are set out which make it easier to sack public servants and more difficult for them to get promoted. Contracts are to be renegotiated and performance management schemes are to be implemented. Working hours are to change with workers forced to work unsocial hours. All workers are to vote on specific changes which only affect some workers. This is undemocratic and removes the right of individual unions to defend members' interests.
Outsourcing and the use of agency workers is given the go ahead. The work of unionised workers can now be handed over to sectors where they are unorganised.
Race to the bottom
This agreement was to stop a repeat of the Irish Ferries dispute where workers were made redundant and replaced by low paid agency workers. An elaborate procedure has been agreed which is supposed to stop this but it wont.
The procedure only applies to Compulsory Redundancies: The Irish Ferries redundancies were not compulsory.
To use the procedure the union must show that it has co-operated with restructuring and there can be no industrial action. If its found that the redundancies are bogus and the employer goes ahead the only sanction is that they will not get a rebate from the state. Workers can take unfair dismissals but most of these cases do not result in reinstatement.
Much will made of the commitment to more labour inspectors. While they should be welcomed it needs to be noted that there are currently more dog wardens than labour inspectors. There have been demands for years for more and labour regulation in Ireland is low.
The social wage
There are over 60 pages of proposals for social provisions which on the face of it might look very progressive. But as the as The Irish Times editorial of June 18 says: "As on previous occasions, however, the targets set are largely aspirational and accord in broad outline with existing Government policies. Their implementation will rely on the buoyancy of the State's finances"
There are few new proposals which will improve health, education or child-care. Indeed it is made clear that while capital spending on infrastructure (roads, broadband etc) is fixed at 5% of GNP spending in other areas is to reflect growth in the economy. The problem with public services is that we spend a lower percentage of our national income than in other countries. The ratio of social spending to national income will not increase as a result of this agreement. There are no new hospital beds in this agreement. While it makes commitments to reduce class sizes in primary schools the government has already accepted that it will not meet the commitment in the Programme For Government to have class sizes of 20 for under nine-year-olds. On the day the agreement was published it was announced that the number of children in classes over 30 had gone up in the last two years.
It should be remembered that the housing provision in the last agreement has not been delivered.
There is an alternative
This agreement endorses key aspects of government policy which is aimed at making Ireland business friendly. The demand for change and flexibility is all over this agreement. In the midst of a boom there are no major concession to workers in the shape of more holidays or shorter working hours. It has not been possible for the Irish Nurses Organisation to advance their demand for a 35-hour week in the context of national agreements.
It endorses Public Private Partnership and will lead to further privatisation. There is no commitment to public ownership. This agreement will not stop the erosion of pension schemes. During the partnership talks the state announced the privatisation of Aer Lingus and the Bank of Ireland, having announced profits of €1.3 billion, said it was dismantling its defined benefit pension scheme.
This agreement imposes further restrictions on workers and unions. While employers are free to continue making super profits workers incomes are restrained for little or no pay back on the social wage.
The leadership of ICTU has failed abysmally in their objectives in going into these talks. This deal must be rejected.
Some say there is no alternative but yet, more than ever, individual unions are coming to the realisation that they cannot advance and defend their members' interests in the context of these agreements. An alternative is possible. The first step in making it possible is to vote no to this deal.