20 July 2006 Edition
Right wing think tanks The Irish connection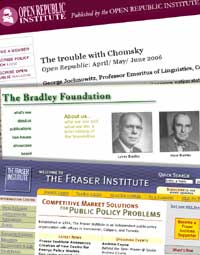 Right wing think tanks  The Irish connection by Eamon Dunne
Campaigners for bare knuckle capitalism
The last 50 years has seen the proliferation of 'think tanks' providing books for libraries, articles for newspapers, 'experts' for radio and television, academics for seminars and advice and policy recommendations for politicians. Many are funded by wealthy businesses interests and provide free market economic solutions to society's ills.
Fraser Institute
The Fraser Institute is a Canadian think tank founded in 1974. The principal figures behind it were T. Patrick Boyle, then vice president Financial Planning for MacMillan Bloedal, and Michael Walker, a right-wing University of Western Ontario economist.
Boyle felt that a new organisation could best aid the individual's 'economic freedom' and counter government intervention in the Canadian economy. It would disseminate favourable research findings in an attempt to influence political parties, the civil service, academia, the media, the general public and those with an input into policy making. The Institute has enjoyed the help and support of such notable right wing, free market advocates as Milton and Rose Friedman, Friedrich Hayek, Sir Arthur Fischer and Sir Alan Walters, former personal economic advisor to Margaret Thatcher.
Michael Walker became the Institute's first executive director, a position he held until 2005 when he stood down to be replaced by Mark Mullins, the Institute's former Director of Ontario Policy Studies. He remains active within the organization as President of the Fraser Foundation, Senior Research Fellow, free-market advocate and what could be described as a right-wing theoretician.
Funding
From the start the Fraser Institute received donations from individuals, corporations and private foundations. According to Media Transparency, between 1985 and 2003 the Fraser Institute received 30 grants from numerous right-wing foundations including the Sarah Scaife, Carthage and Lynde, Harry Bradley, and the Donner Canadian Foundations. The Sarah Scaife Foundation is funded by the Mellon Industrial, oil and banking fortune and has distributed millions of dollars to right-wing think tanks. The Lynde and Bradley Foundation of Milwaukee, Wisconsin, with assets in excess of $450 million, is one of the world's foremost right-wing foundations dedicated, in the words of Media Transparency, to the promotion of " laissez - faire capitalism : capitalism with the gloves off."
The Institute's Annual Report for 2005 showed that of its $8 1 million income 42% came from charitable foundations, 37% from organizations including corporations, and 14% from individuals. Amongst the Institute's corporate backers, at various times since its establishment, the following have been identified: forestry giant MacMillan Bloedal; Exxon Mobil Corporation or ExxonMobil, the largest publicly traded, integrated oil and gas company in the world, Thomson Newspapers; Dow Chemical; Dupont; Imperial Oil; and the global food, drug and cosmetics company Proctor and Gamble. The Fraser Institute's 47 trustees include Brandt Louie, CEO of London Drugs, David Radler of Conrad Black's Hollinger Inc., Hassan Khosrowshahi of Inwest Investments, David Asper of the CanWest Global Communications Corporation media giant, and Catherine Windels of Pfizer, the global pharmaceutical company based in New York.
Publications
The Fraser institute has published over 200 books and studies written by staff specialists and sympathetic academics. These have been translated into 20 languages and are sold in more than 50 countries.Their findings generally support the following :
• Lower and flatter taxes
• Maximum privatisation of government functions and services
• Privatisation of public pensions
• Commercialisation of the public health care system
•Provision of increased 'choice' in the education system
• Ending of minimum wage laws and more rigid control over unemployment insurance
• Reorganisation of welfare programs to 'encourage' the unemployed into low paid work coupled with a reduction in government support for those still unemployed.
• Greater reliance on charity and voluntary work to cater to the needs of the less well off
• Liberalization of trade, both nationally and internationally
• Ending of gun control viewing it as a 'failed experiment'.
Trade union response
Trade unionists have frequently been concerned with the anti-union activities engaged in by the Fraser Institute. Jim Sinclair, President of the British Columbia Federation of Labour has referred to the Institute's "wish list for turning back the 20th century" and referred to one of its studies as "a blueprint for lower standards, busting unions, firing thousands of people and driving the economy further in the tank." (28 August, 2003).
Economic freedom
For the Fraser Institute economic freedom is of primary importance. The fundamental components of this 'freedom' are personal choice, voluntary exchange, freedom to compete, and the protection of private property. The institute seeks to investigate and publicise areas where economic freedom is allegedly hindered, particularly by government intervention. Michael Walker has stated that the Institute's 'operating motto' is "if it matters measure it". The Institute has indeed sought to measure everything from tax freedom day (the day on which Canadians, supposedly, stop working for the government and start working for themselves) to hospital waiting lists. It provides an analysis of the issues investigated coupled with the provision of right-wing solutions to the problems identified.
Spreading the word
In 1995 the Institute established the Economic Freedom Network to advance the economic freedom concept worldwide.These institutes, composed of dedicated, campaigning capitalists, co-operate in the preparation and distribution of the Economic Freedom of the World Index. This attempts to measure the degree to which a country's institutions and policies support economic freedom.
The economic freedom index was published for the first time in 1996. Entitled Economic Freedom of the World : 1975-1995, it sought to establish a link between a country's level of economic freedom and its economic growth. The latest index for 2005 attempts to show that economic freedom is responsible not only for immense prosperity but also peace. According to the report it "is almost 50 times more effective than democracy in diminishing violent conflict between nations".
In the eyes of the network's affiliates, virtually unrestrained capitalism is the panacea for the world's problems. They are aware that for many people, by virtue of their experience and knowledge of history, "capitalism is often a dirty word". They seek to bring the issue of economic freedom into the arena of general public debate so that an increasing number of ordinary people may discover "the economic virtues of the invisible hand of free markets". It is an attempt to package rigid, right-wing ideology as 'common sense'.
The network is now composed of 71 right-wing public policy Institutes based in the same number of countries throughout the world. These include the US's Cato Institute, Britain's Institute of Economic Affairs, Germany's Liberales Institute, France's Association pour la Libertã´ Economique et le Progrã´s Social (ALEPS), and Ireland's own free market warriors - the Open Republic Institute.
Open Republic Institute
The Open Republic Institute is a member of the Economic Freedom Network established by the Fraser Institute. The Canadian Institute, in collaboration with its worldwide affiliates, annually updates the Economic Freedom of the World Index. The latest report for 2005 is the 9th edition and rates 127 countries for the right-wing, free market, economic freedom concept. Hong Kong achieves the highest rating and Ireland finishes in eighth place. The Open Republic Institute, based on Shelbourne Road in Dublin 4, provides the Index's Irish research data. Its Directors are Paul MacDonnell, Constantin Gurdgiev and Moore McDowell.
Directors
Paul MacDonnell co-founded the Institute in 2001 as a libertarian, free-market think tank. He is a regular contributor to the media and in the 1980s was employed, on a consultancy capacity, by Hill & Knowlton in Britain. He has advised Eurotunnel, Tarmac, Monsanto, and the British Foreign Office on political and corporate communications affairs. Hill and Knowlton is one of the three largest PR companies in the world with 71 offices in 40 countries. In 1953 H&K worked for the tobacco industry in its campaign to refute scientific evidence which linked smoking and lung cancer. Also, in 1990 the firm undertook PR work for the US-funded Citizens for a Free Kuwait, in the lead up to Desert Storm and has had close contact with numerous US administrations.
Constantin Gurdgiev lecturers in economics at Trinity College Dublin and is editor of Business and Finance. In the past he has worked as a Projects Director for the California-based East-West Global Trade, Ltd. and Global Trade Consulting, Ltd.
Moore McDowell is a lecturer in economics in U.C.D., a professional economic consultant and a well known right-wing, free marketeer.
Activities
The Open Republic Institute advocates open-markets, voluntary action, individual freedom, religion and the rule of law as the most effective ways of dealing with any and all problems faced by society in Ireland and abroad. The Institute, in order to maximise its influence, does not support any particular political party. However, it attempts to gain publicity and leverage by the financing and publishing of public policy analysis, organising conferences, seminars, lectures and discussion groups.
The Institute tries to make its findings widely available and particularly attempts to influence members of the Oireachtas, MEPs, civil servants, NGOs, clergy, the media and academics. Indeed, the Open Republic Institute's Academic Board, composed of academics sympathetic to its right wing free market aims and objectives, contains some notable heavy hitters. These include Dr. Stefan Auer, Dr. Sean Barrett, Dr. Graham Brownlow, Prof. Kevin Dowd, Dr. Timothy Lynch, Prof. Brendan Walsh and Dr. Mark Wynne.
Barrett is a graduate of U.C.D. and McMaster University, Canada and is a senior lecturer in economics at Trinity College Dublin. He has served on numerous public bodies including the Brennan Commission on the Health Service, and the Culleton Review of Industrial Policy. Prof. Brendan Walsh was, until mid-2005 when he retired, Head of the Economics Department in University College Dublin He has worked as a consultant with the the OECD, World Bank, and the EU Commission. He is now a Professor Emeritus of the University and working as a Research Fellow in the School of Geography, Planning, and Environmental Policy at UCD.
Right-wing Philosophy
The Institute does not accept any assistance from the state and is funded by private supporters. It stresses its educational role and independence. However, a study of what could be described as its core beliefs reveals an organisation very similar to its Canadian Fraser Institute mentor. These beliefs can be distilled as: opposition to effective trade union action as an impediment to 'economic freedom'; attacks on the concept of the welfare state and the 'dead weight' of public expenditure used to fund it; hostility to regulatory barriers when they hinder enterprise; constant praise for free markets and their supposed ability to generate social progress; the demand for the substitution of governmental control with competitive markets; an emphasis on the need for 'choice' in Irish healthcare; and support for the dangerous notion of prioritising 'economic freedom' over democracy.
Free market guru Friedrich Hayek believed that 'liberty' was more important than democracy, a belief shared by the current crop of free-marketeers. In Chile, between 1973 and 1989, in the absence of democracy, 'economic freedom' was allowed full reign through a mixture of authoritarian political control and neo-iberal economic policies.
Chile: A Warning from History
On 11 September 1973, the Chilean military, led by General Augusto Pinochet seized power in a C.I.A. backed coup. The democratically elected socialist Unidad Popular (Popular Unity) coalition government of President Salvador Allende was suppressed. The new Junta immediately began to overturn Allende's socialist reforms and frame neo-liberal economic policies. Pinochet depended on the 'Chicago Boys' - a group of approximately 30 Chilean economists trained in free market economic theories at the University of Chicago between 1955 and 1963. By the time they returned to Chile they had become completely imbued with free market theory and were staunch devotees of the neo-liberal theories of Milton Friedman.
While Pinochet, through brutally suppressed all political opposition, he placed the economy in the hands of the 'Chicago Boys' and allowed them to implement their free-market policies of deregulation and privatisation. The measures taken included the abolition of the minimum wage, suppression of trade union rights, the privatisation of the pension system, welfare programmes, state industries and the abolition of taxes on profits and wealth. Workers experienced economic 'shock treatment' and the imposition of an austerity programme through terror.
Widespread human rights violations occurred involving murder, torture, 'disappearances' and the suppression of political opposition and trade unions. All this was carried out in the name of liberty and economic freedom.
Equality Agenda Alternative
Equality Agenda campaigners need to rationally and patiently show that a well-mannered, free-market devotee can still be a thug. Those with a concern for the exploited and downtrodden, when not portrayed as terrorists, slackers, or wasters, are dismissed as emotionally immature without the ability to intellectualise.
We need to show that there is not much sophistication or intellectualism attached to old fashioned exploitative greed, self-interest, arrogance and lack of imagination. The attempt to elevate basic greed to a higher moral status can be seen throughout history and continues down to the present day with Michael McDowell's advocacy of inequality and Mary Harney's passion for privatisation.
Indeed, if you wish to gain an insight into the mindset of those who want to reverse the democratic gains made by workers during the 20th century, you need only read the Fraser Institute's Fraser Forum magazine. There you will find articles such as 'Why the World Needs More Sweatshops' (Michael Walker, March 2006), and 'Minimum Wage, Maximum Folly' (Walter Williams, May 2006).
Fred McMahon, the Fraser Institutes's Director, Centre for Globalization Studies, has called for the ending of welfare and has stated that "The safety net makes the consequences of bad choices seem more tolerable. Anti-poverty programs all too often make poverty more acceptable and thereby perpetuate it."
These bare-knuckle capitalists and their adherents in other countries wish to create a world where the rich prosper and the poor, unless in a condition of absolute poverty, receive no help whatsoever. In other words, they wish to build an 'open republic' for financial speculators and major corporations and a closed one for everyone else, particularly the disadvantaged. Republicans and socialists need to challenge these free-market zealots every step of the way and show that there is a humane alternative to greed and ruthless self-interest.
An Phoblacht Magazine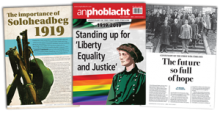 AN PHOBLACHT MAGAZINE:
Don't miss your chance to get the first edition of 2019 published to coincide with the 100th anniversary of An Chéad Dáil and Soloheadbeg.
In this edition Gerry Adams sets out the case for active abstentionism, Mícheál Mac Donncha takes us back to January 21st 1919, that fateful day after which here was no going back and Aengus Ó Snodaigh gives an account of the IRA attack carried out on the same day of the First Dáil, something that was to have a profound effect on the course of Irish history.
There are also articles about the aftermath of the 8th amendment campaign, the Rise of the Right and the civil rights movement.