20 July 2006 Edition
Property developers target Greencore
BY ROBBIE SMYTH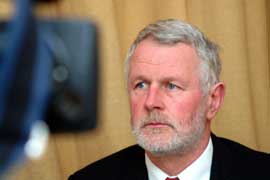 Property developers target Greencore
Nobody is happy this week with how agriculture minister Mary Coughlan allocated €145 million EU compensation for the end of sugar beet production in Ireland. Beet sugar processor Greencore is threatening legal action, beet growers and contractors feel hard done by, while in the background property developers circle the former public sector firm anxious to begin asset stripping.
Sinn Féin has offered an alternative way forward, publishing a case for keeping sugar production in Ireland. The proposals launched by the Sinn Féin's agriculture spokesperson Martin Ferris TD involve formulating a national bio fuel policy and adapting beet processing to ethanol production.
The sugar industry's focus was only on how Mary Coughlan allocated EU compensation of €145 million. Of this, €90 million or 70% went to Greencore, on the condition that €28.4m went to employee redundancy costs, €50m for pension, training and outplacement costs and €20m for environmental and demolition costs of plants and site clean up. Beet growers would get €40m in compensation with €7 million allocated to the harvesting contractors.
Greencore demanded 90% of the available compensation without preconditions. The IFA Sugar Beet chairperson Peadar Jordan described the deal as a "betrayal of farmers". Approximately 3,700 beet farmers will get €22,703 on average for exiting beet production. The 250 contractors who have invested in the specialised machinery needed to harvest beet will share €7.1 million to cover losses.
Martin Ferris said the deal was a "disgrace". He believed beet growers should get a majority of the compensation. He said that the government mishandled sugar talks last November. The government "stood idly by while farmers in this state lost their entire sugar beet quota while farmers in France increased their quotas", he said.
Ferris believes the government's focus has been on short term compensation rather than the industry's long term future and the IFA have highlighted the property development profits that will now accrue to Greencore.
Greencore now has 900 acres of land with development potential. There are 300 acres in Carlow, a dormer town to Dublin with spiralling property prices, there are 290 acres in Mallow, Cork, and a 125-acre site 50 miles from Gatwick airport which Greencore is trying to have rezoned for residential development.
These assets are valued at just €40 million in Greencore's accounts but independent valuations carried out for the IFA value the land at €187 million. Days before the beet compensation Dundalk property developer Liam Carroll bought a 22% stake in Greencore for €171 million. Carroll is not interested in the food side of Greencore but can see the hidden value in the company's property portfolio.
Carroll who shuns publicity was cited by High Court Justice Kelly in 1997 as being a "disgrace to the construction industry" and that "the workers on whose sweat you make your money on are treated with contempt". Carroll's Zoe Developments had been in breach of health and safety regulations.
Sinn Féin Sugar Industry Proposals
(1) Renegotiate the EU sugar deal to retrieve the Irish quota
(2) Adopt a national bio fuel policy with tax incentives for ethanol production
(3) Government should use its golden share in Greencore to prevent asset stripping
(4) Invest in adapting the Mallow and Cork plants for ethanol production.
Benefits
(1) New jobs and income for farmers
(2) Maintenance of strategic crop production in Ireland
(3) Boosting bio fuel production to match EU proposals that all petrol has 5.75% of bio fuel as a constituent