20 July 2006 Edition
OPINION More strategic, integrated approach needed to tackle unionist veto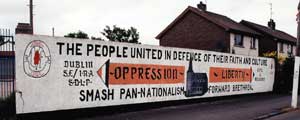 OPINION More strategic, integrated approach needed to tackle unionist veto
Engagement to Win the Republic
Addressing the issue of republican outreach, DOMHNALL Ó COBHTHAIGH argues for Sinn Féin party structures, particularly MLAs to focus on the next few months as a short-term window of opportunity to really engage with civil society.
Political unionism is well past its sell by date. However, unionism was past its sell by date in 1922 when Winston Churchill gave the newly established Stormont regime no more than six months. All that's different today is that capitalist and developmental economics would both prefer Irish unity. However, the logic of economics does not always impact on political structures on a short or even medium-term basis - anyone in doubt should read Engel's account of Bismark's successes in upholding the Junker-state in Germany against the development of modern capitalism in the 1800s. In the end economics will be decisive but it can be held up for decades through state action and the role of force.
Party political unionism is not dead, nor can it be until its basis, the unionist majority in the Six Counties, is removed from play. It is our central task to remove the unionist veto over progress towards unity. I believe republicans can achieve this much more easily than we expect if we adopt a more strategic and integrated approach to action within Sinn Féin and back that up with a turn to professionalism within party structures and communication.
Political unionism is hugely exposed at this time. Republicans have sought repeatedly to engage political unionism, to return to locally-accountable governance, to re-establish the institutions of the Good Friday Agreement. Political unionism is perceived as negative, petty and uncertain. Republicans are perceived as generous, determined and confident. Any external observer would expect political Unionism to be strong with six out of 10 Ministerial seats owed to them (along with the First Minister) and with a constitutional majority inbuilt into the terms of the Good Friday Agreement. Republicanism and nationalism might be expected to be weak - we have only four of the 10 Ministerial seats (plus the deputy First Minister) and are fighting an uphill battle in arguing for Irish unity. Yet, it is political unionism not militant republicanism which cannot face up to Government.
The unionist base also reflects this paradox. Despite generations of relative privilege - and maybe because of it - its urban communities are characterised by communal disintegration, criminal paramilitarism and educational disengagement. Their rural communities are characterised by a gradual decay and ageing populations. Only along the North-east coast, do middle-class unionists continue to enjoy the benefits of a privileged lifestyle in 'their country'. However, most of them are full-time trying to keep out of the messy realities of northern Irish politics leaving that to the lower classes.
There are huge opportunities for republicans at this time. Our focus must be on concentrating our activity to find a way to engage with the political base of unionism. We need to ask them why is it that their representatives cannot move forward and share power? Why is it that they cannot work together with the rest of Ireland to mutual benefit? Civil unionism is central to this engagement. As a party we need to set our sights on the next few months as a short-term window of opportunity to really engage with civil society. Trade unionists, business people, community groups, women's groups, other disadvantaged groups, farmers and rural dwellers and the new citizens need engagement on a far greater and wider scale than we are doing at present. The role of MLAs in that engagement, as public representatives perceived to have an important voice, cannot be understated.
The impact of higher domestic rates, the introduction of water rates, the education cuts, the health rationalisations, the continued loss of jobs, the ban on rural housing all present areas of shared interest. There is more in common between nationalists and unionists, Catholics and Protestants than what binds Irish and British Unionism. There is a short window of opportunity when these tasks need focussed upon with the hope of re-establishing a locally accountable and representative executive authority. If we succeed in bringing sufficient pressure to bear on unionism then the channel will be opened to advancing forward within the terms of the Good Friday Agreement itself. If not, then political unionism must suffer a further fracturing from its base and a process of dialogue between republicans and mainstream unionist popular opinion will be opened - a process which will, I believe, lead to reunification itself.
If in the new Year, we are left looking at a form of Joint Authority, then new tasks will present themselves at that time - this window will have closed and another will open. The sort of activities that are now being pioneered by Barry McElduff and other MLAs who are advancing the all-Ireland agenda through targeted and specific actions will be paramount. But today, our focus must be on concentrating our efforts at the failure of political unionism to engage.
These tasks are not the prerogative of the elected members alone. There is a duty on party structures to begin to ensure that there is a much greater level of integration between the imperatives arising from the process of negotiation and the activities conducted by the party on the ground. There should be no shocks from anyone at what issues are being negotiated. Party members should know that implicitly from their own activities. Any such reaction is an indication of organisational failure. We require unity of action for success, and the field is wide open for us, so let's get to it.