20 July 2006 Edition
Cannon and McElchar honoured 3O years on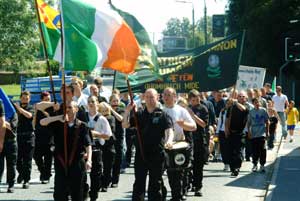 Cannon and McElchar honoured 3O years on
There was magnificent sunshine last Saturday as republicans gathered at the graveside of IRA Volunteer Patrick Cannon from Edenmore on the city's Northside. He died with his comrade Volunteer Peter McElchar of Donegal 3O years ago near Castlederg, County Tyrone.
Several relatives of Patrick's attended the commemoration in Balgriffin Cemetery which followed a march from Darndale roundabout. Chairing the graveside ceremony, Darren Bizzelle of Dublin North East Sinn Féin stressed the importance of the 3Oth anniversary. Councillor Larry O'Toole, Sinn Féin Dáil candidate for Dublin North East, said the work of Patrick and Peter was continuing "in the ongoing and successful efforts of republicans to build Sinn Féin throughout Ireland and to achieve our ultimate objectives of a free, just and equal Republic. That will be their lasting memorial".
Dublin Sinn Féin MEP Mary Lou McDonald said the republican struggle for which so many had sacrificed so much was now being advanced by Sinn Féin. "Our task is to complete the struggle so ably served by our fallen comrades. They did not live or die in vain.. Our work in the here and now is to build Sinn Féin and to achieve the Irish Republic for which they gave their lives. I am confident that we are advancing steadily to that objective".
A commemorative brochure was produced as part of the commemoration. A limited number of copies are available on request by e.mail to [email protected] oireachtas.ie