20 July 2006 Edition
Nuacht na nOibrithe
BY Justin Moran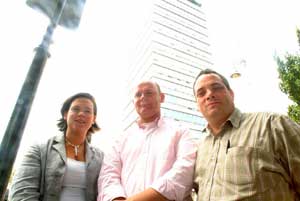 Sinn Féin Trade Union Department relaunched
Sinn Féin's Ard Chomhairle agreed last weekend to re-establish the party's Trade Union Department. The decision follows a six-month trial period where co-ordination of the party's outreach to trade unions and work on trade union issues had been done by a dedicated trade union group.
A spokesperson for the department said, "The response from the trade unions whom we have met and worked with over the last number of months has been overwhelmingly positive and far exceeded our expectations.
"The Ard Chomhairle recognises that the trade union movement is a significant progressive force across Ireland which has influence on both governments and popular opinion.
"We aim to build on our previous engagements with the trade union movement by approaching this work in a more co-ordinated and structured manner. Additionally, we intend to promote trade unionism among our members and supporters. The message is very simple, if you have a job, you should have a union."
SIPTU Firefighters meet Sinn Féin
Sinn Féin MEP Mary Lou McDonald led a party delegation to meet with representatives of the Dublin Fire Brigade service in Liberty Hall last Tuesday. Also on the delegation were Aengus Ó Snodaigh TD and Dublin councillors Daithí Doolan and Felix Gallagher.
The party backed calls for greater support for emergency workers including a public awareness campaign aimed at reducing attacks on fire fighters and ambulance crews following a recent spate of violent incidents.
"It is totally unacceptable that fire fighters or anyone else working in the emergency services should be subject to assault while carrying out their duties and we are also supporting demands for the provision of stab vests and safety equipment for fire fighters and ambulance crews," McDonald said following the meeting, which she described as extremely productive.
Referring to a policy document published by Sinn Féin Átha Cliath earlier this year in co-operation with SIPTU Firefighters, Ms McDonald repeated the need for an immediate fire risk assessment for Dublin.
"It is a disgrace that despite repeated requests no fire risk assessment has been carried out in Dublin for 20 years," she added. "The Fire Brigade are not even represented on many of the major planning forums in the city and county. Dublin City has been transformed over the last twenty years but we continue to rely on an over stretched and under resourced Fire Service."
Hotel workers vote for industrial action
Over 80%of SIPTU members in the Great Southern Hotels have voted in favour of industrial action.
According to Donal Tobin, SIPTU's Killarney Branch Organiser, "the ballot for industrial action follows the decision by the Dublin Airport Authority and its agents to continue to promote the sale of the Great Southern Hotels (GSH) without reaching agreement with staff on outstanding issues - including full compliance with the collective agreements, pensions for employees in the future, reckonable service and reckonable pay for calculating redundancy payments.
"The Labour Court has intervened in this dispute and invited both parties to a hearing on Wednesday, 19 July 2006. The Union has accepted the invitation."
Taxi strike
Up to 95% of taxi drivers took part in a one day strike on Monday against proposals from the Commission for Taxi Regulation to restructure taxi fares, including abolition of the additional charges for serving Dublin Airport. Taxi drivers have pointed out they are obliged to pay Dublin Airport for using the rank there.
The 24-hour strike saw pickets placed on taxi ranks across the state and was supported by the National Taxi Drivers' Union, the Irish Taxi Drivers' Federation and SIPTU Taxi Drivers' Branch. Further actions are possible unless the Commission agrees to re-examine its position.