20 July 2006 Edition
Remembering 1981 Devlin replaces Hurson. Riot at Brittish embassy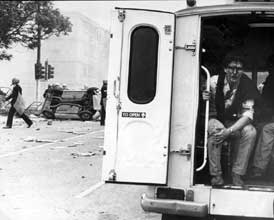 Remembering 1981 Devlin replaces Hurson. Riot at Brittish embassy
Dublin - British Embassy riot
On Saturday, 18 July 1981 a peaceful protest in Dublin in support of the Hunger Strikers turned into a full-blown riot when Gardaí in riot gear blocked the route to the British Embassy. An estimated 20,000 marchers were making their way to the embassy when they were brutally assaulted as the Gardaí protected the representative of a British government that had effectively killed six Hunger Strikers at that stage.
It appeared as if almost every last Garda in the 26 Counties was deployed to Dublin that day to stop the march before it reached the embassy. Not content with halting the march, Gardaí also blocked escape routes, cutting off those who tried to leave when the riot began. Every Garda on the scene was armed with batons and wore protective helmets and shields. As rioting broke out demonstrators improvised weapons. A very small number brought stones and the like to the march, but again that number was a tiny proportion of the thousands of marchers on the day. They were a minuscule minority against the ranks of Gardaí present and harmless in the face of the insane brutality unleashed by the Gardaí.
Many independent witnesses had their eyes opened to the brutal nature of state forces at the time. The National H Block/Armagh Committee had a strict policy of adhering to peaceful protest only and the events of that day went totally against the grain. Part of the role of that Committee was to bring as many people onto the streets as possible in peaceful protest and to attract a wide range of support. The riot was in danger of distracting from the prisoner issue. But the marchers were not to blame and the whole event served to illustrate a fundamental fear within the establishment in relation to the massive support the Hungers Strikers had gained.
The fact also that journalists were amongst those battered by the Gardaí that day ensured that their orgy of violence was documented despite efforts amongst the media in general to apportion blame to the marchers. Besides recounting the beatings they themselves endured, journalists were able to give details of the indiscriminate kicking and beating of old men and women, young girls, and already unconscious victims by Gardaí. Certainly members of the Gardaí were injured, but in very small numbers and some of those listed as casualties included many who wisely hit the ground and were carried away from danger.
Even back at the GPO in O' Connell Street hours later Gardaí launched an attack on peaceful protestors who for a number of weeks had been mounting a token relay fast there. About 100 Gardaí suddenly launched an attack on them, in which one protestor had his leg and wrist broken. The Gardaí tore up the book of condolences for the relatives of Martin Hurson, kicked the table it was on to pieces, and stole other literature and money which had been collected.
Matt Devlin
Matt Devlin from Ardboe, County Tyrone replaced Martin Hurson, another Tyrone man on the 1981 Hunger Strike, on 15 July. At this point there were eight men on the strike. Born on 30 April 1950, Matt was the second eldest in a family of six. His father died in 1973. Matt was arrested by British forces in February 1977 and taken to Cookstown and then Omagh barracks, where he was interrogated for four days. On the basis of a forced statement he was charged with attempting to kill members of the RUC. In October 1977, Devlin was sentenced to seven years and immediately went 'on the blanket'. He was one of the 30 men who joined the first hunger strike in 1980.
Described as "a tall, well built country man" before his arrest, he was under eight stone by the time he reached the 46th day of his fast. His parents were not republican. Matt attended Rock primary school and though not keen on studying, he was an avid reader. He played football with the local club and in 1979, as Matt was on the blanket and no-wash protest, Ardboe Gaelic Football Club elected him as its President. In 1967 he started as a farm labourer, work he thoroughly enjoyed. He also worked for a year in England as a labourer. On returning to Ireland he resumed work as a farmer. "He was crazy about farming", former cell-mate Joe Boyle recalled.
Around 1974, motivated by the injustice of British rule that he could see around him, Devlin started helping the local IRA. For two years he was involved in moving and dumping equipment, driving Volunteers and scouting for the local unit. Fulfiling his tasks eagerly and showing himself to be reliable and fearless, he was accepted into the IRA in 1976. One of his first operations, in June 1976, was an ambush in which Devlin and two other Volunteers, after four days lying in wait, opened fire on an RUC landrover. After a number of operations in the local area, several raids took place, with dozens of jeeps, saracens and helicopters. A number of men, including Matt Devlin, were arrested.
Matt Devlin, who would have been released in 1980 had he accepted criminalisation, volunteered for both the first and second hunger strikes. He was strong and determined. In a letter addressed to one of the many rallies in Ardboe, Matt summed up the context in which he and his comrades were on hunger strike: "In the weeks that passed, you have buried the seventh and eighth of my comrades to die on hunger strike. On the days before their deaths, we heard the cries 'Croppies lie down, for God's sake' from the Church. Day-by-day we come nearer to death. For five years we have suffered all sorts of degrading treatment as we tried for a peaceful and just settlement."