20 July 2006 Edition
Interview Olive Sloan, Sinn Féin National Administrator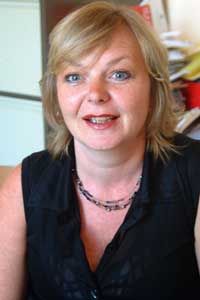 Interview Olive Sloan, Sinn Féin National Administrator
Breaking out of the frame
Over the past few months An Phoblacht's ELLA O'DWYER has spoken to several women holding down key positions within the Sinn Féin party structure. This week she spoke with the party's national Administrator Olive Sloan.
A Dubliner, Olive Sloan's father came from Oliver Bond in the South Inner City while her mother was from Marino. The two met when her mother visited the Abbey Theatre where Sloan's father Robert worked as an usher. Sloan's grandfather, a protestant of Scottish origin had also worked at the same theatre at a time when the Abbey was associated with republicanism.
Both of Olive Sloan's parents were republican - her mother was in An Cumann Cabhrach and her father Robert was active in the border campaign in the 1950s with people like Peter McNulty, who died in a premature explosion in Castlewellan, and Eamon MacThomáis. Sloan is the youngest of a family of 13 republicans, her older brothers and sisters getting involved in the aftermath of the Civil Rights campaign of the late 1960s.
Sloan recalls young people coming on holidays from pogrom plagued areas of the North to stay in her home. "It was a respite for them and it was brilliant. Here were all these people from republican backgrounds but with a Six County perspective".
Garda harassment
In the estate where the Sloans lived at the time, there were very few republicans and there was a certain isolation involved. Later the family moved to a private estate in Coolock. The Garda Special Branch started to raid the house and her 21-year-old brother was arrested. "One of my brothers was lifted and done for membership of the IRA. At the time a person could be charged with membership solely on the word of a Superintendent." Olive Sloan was about six years of age at the time.
In the 1970s young children from republican backgrounds often joined the Fianna or the female version known as na gCailiní. "That was where I met Deirdre Wheelan a senior member of the gCailiní." For youngsters of the age it as an exciting time. "We'd go on hikes, and there was a positive kind of discipline involved and the children went to drill once a week. Even on my First Communion I had to attend. I didn't feel it as an ordeal. I loved it. My first big march was at Bodenstown and because we were small, we were at the front and could see everything." Máire Drumm gave the oration that year and the strength and sheer presence of the woman struck the young Sloan in a way that stays with her to this day.
At school Olive Sloan suffered a degree of isolation. There were few if any other republican minded pupils around. "You didn't really talk about your republicanism". Then another of her republican brothers was arrested and charged with armed robbery and the story hit the papers. There were taunts from some of the other pupils - "your brother was caught robbing money etc." Soon the Branch were visiting the school and looking into the files for information. " I was about 14 at the time. I remember sitting in the class room and seeing a Branch car coming into the schoolyard". It was the same Branchmen that had previously raided her house. One of the more compassionate teachers took her one side. This teacher was aware that she might be upset and tried to lend her moral support. " They (the branch) knew you were different, even if you were only of school going age," Sloan recalled.
Hunger Strike
Despite the disruption surrounding her school years, Sloan did well, excelling particularly at history and debating. Nevertheless she had no interest in continuing her studies and left school to go to work. Then the Hunger Strikes began and her home was "an open house". She recalled with amusement her mother taking down the roller blinds to have them cleaned. "The boys took them to make a Hunger Strike banner with the wording - 'Thatcher murdered Bobby Sands'.
For Sloan, the Hunger Strike was "overpowering. It was very sad and yet it made you defiant and strong. These young men could have been my brothers".
Olive Sloan has eight brothers and four sisters; a large family and for her the republican movement is an extension of that family.
In 1985, soon after the birth of her daughter Amber, Olive joined the Cole/Colley Sinn Féin Cumann in Coolock. She started work in Christy Burke's office in Blessington Street along with Ann O' Sullivan who was Christy's assistant and part Sinn Féin's POW Department. Pamela Kane, another republican and Olive Sloan became good friends. Olive, along with others were also involved in the Anti-Strip Searches campaign and in 1986 a group of campaigners took over the Labour Party Head Quarters in Dublin to highlight the issue. Sloan recalled an occasion when a group of republicans encountered a north city Branchman. "The main three people he focused on were Pamela Kane, Ann O'Sullivan and myself. He had a thing about the women, expressing the view that women were more defiant than men."
Tough times
Things were tough financially at the time for young mothers. Along with the harassment, there was a degree of poverty. Now years later she reflects on how people like Ann O'Sullivan and herself, then young mothers, overcame such obstacles, going on to continue their republican work to this day.
In that same year of 1986 there was an emotionally charged Ard Fheis in the Mansion House when the issue of abstentionism led to a walkout. "I found that a very, very emotional Ard Fheis. I was doing registration at the door at the time and here were a lot of comrades whom I would have looked up to walking out." One of her father's friends, a long standing republican, came up to her and said: "You need to be going with us." She didn't go.
One day in 1987 Joe Cahill arrived into the Blessington Street office asking to see her, leading her down to his car for a chat. Sloan was nervous wondering if something wrong and to make matters worse, Joe had a reputation for being a very poor driver. Driving up Blessington Street, Cahill asked her if she would come and work in the Sinn Féin Bookshop in 44 Parnell Square. Sloan felt honoured to be asked and agreed. "He knew me from when I was very young." With some embarrassed amusement she recalled him saying to her one day: "I like you, you have balls!" For Sloan Joe Cahill was and remains an icon.
Some years later, in the early 1990s, Rita O' Hare "poached" her for an appointment at the Press Office. "It was a time of heavy censorship against the Movement". She liked Rita. "She was a strong woman with a strong sense of humour and you could talk to her about things".
National Administrator
In 2003 Olive Sloan became Sinn Féin's National Administrator. "I learned a lot from Maria Doherty, the previous administrator. I love the job and there is that sense of the large family of republicanism." The Tírghrá event was an occasion she was most proud to be involved with.
She believes that women republicans are a particular breed, especially those who got involved in the movement at a time when it was very difficult in terms of harassment, financial difficulties, particularly if you were a mother. "As a republican you sometimes have to make difficult decisions. Sometimes women are perceived to be strange or even unnatural if they make alternative life choices like getting involved in political activism. "Women are traditionally placed in boxes, stereotyped. Republican women typically break out of those frames". Recalling Maire Drumm Olive Sloan remarked: "She had a family, she was a wife and mother. She'd endured so much but you'd see the strength." Olive Sloan too is an activist, wife and mother. She still lives in Dublin with husband John and three children Amber (21) Oisiin (11) and Orliath aged eight.