20 July 2006 Edition
Interview: Seanna Walsh, Sinn Féin Roinn an Chultúir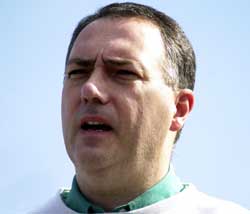 Interview: Seanna Walsh, Sinn Féin Roinn an Chultúir
Irish must be part of republican vision for the future
Slógadh Shinn Féin, the annual Irish language event, takes place this weekend in Belfast. Here, SEANNA WALSH head of Sinn Féin's Roinn an Chultúir, explains the thinking behind plans to make Irish the working language of Sinn Féin
Plans to make Irish the working language of Sinn Féin may seem a bit 'pie-in-the-sky' but republicans need to offer an alternative to all the other parties out there. We must have a vision for the future which will help create something different from the materialist rat race which prevails in western society.
The Irish language is part of what we are, it is intrinsic to how we think, our approach to life. That is not to say that anyone who speaks Irish is a friend of the Republic. Obviously this is not the case, but Irish can be and should be an intrinsic part of what James Connolly and after him Máirtín Ó Cadháin described as the 'reconquest of Ireland'.
Some people mistakenly perceive this as somehow backward looking and that it would exclude sections of the Irish people such as the 'new Irish' arriving on our shores every week. That could be the case if we sought to exclude any section of people but we don't. We seek to reach out to everyone who wants to be part of our future. Most people throughout the world speak a couple of languages. Because of the dominance of the British and lately the US on the global stage most English speakers have adopted an almost imperial view of language and so they travel to all parts of the world and expect 'the natives' to speak English. This is outrageous when you think about it.
People from outside the English speaking world don't have a problem learning the language of their new, host country. If you decided to move to France, Spain or Germany the first thing you'd do would be to get yourself a grounding in the language.
Background to latest initiative
The latest republican initiative around Irish has emerged following the coming together of a number of factors. Firstly there was a realisation amongst a number of activists that due to the changing nature of the struggle in the North, as the British Army moved off the streets and hills and adopted a less visible role here, ideology - republican politics and ideas - would have to come more into play. As part of our radical activism we viewed the issue of the language as a potential rallying point. Also surveys have repeatedly shown general goodwill and support for the Irish language across the broad range of Southern society.
We identified it as an avenue of contact into a wide swathe of people who don't have regular contact with republicans, but who could be encouraged to enter short term alliances to broaden our base and, through joint activism, help break down some of the misconceptions and misrepresentations encouraged by a hostile media.
It is necessary to build, not simply an effective electoral machine but also a party with an activist edge. A radical campaigning approach to the language could help mobilise all sorts of people.
This is an important anniversary year - the 25th Anniversary of the 1981 Hunger Strike and the 90th Anniversary of the Easter Rising. Everyone knows about the affinity Pearse and other 1916 leaders had with the language and at least eight of the 1981 Hunger Strikers made the effort while on the Blanket to learn Irish.
Basque example
In September we hope to begin to roll out our action plan. The Basque party, Batasuna did it in eight years, moving from a party in 1992 which conducted all its meetings in Spanish, all its press conferences, statements, and other business. In 2000 it had attained a position whereby everything was done through the medium of Basque. More importantly Basque society changed from a situation where in 1992 10% of people used Basque as their everyday medium of communication to a position in 2000 where over 30% stated that Basque was their language of choice at home and in the workplace.
Recently we had an Irish policy workshop in Dublin from which Aengus Ó Snodaigh TD has put a process in train which should see a comprehensive language policy covering all areas of concern for the next Ard Fheis. We should, as part of that, have the skeleton of our plan drawn up to roll it out right across the North, then spread throughout all the other Cúigí.
We have had a series of meetings with all Cúigí and have identified activists who we believe are up for the task. We hope to take this a stage further next weekend with the Slógadh taking place here in Belfast for the first time in years.
Slógadh
The Slógadh is the annual Sinn Féin event for language activists to meet up with old acquaintances and hopefully make some new ones. It involves discussions, lectures, arguments, singsongs and debates. We'll have a couple of tours to some of the more interesting sites around Belfast and its environs.
We've invited along some of our more prominent people like Bairbre de Brún, Gerry Adams, Aengus Ó Snodaigh, Francie Brolly and Caitríona Ruane. But these will be joined by Dominic Ó Brollachán of the SDLP and members of Conradh na Gaeilge from Dublin, Derry and Galway.
Hopefully, the debates, discussions, the craic and the ceol will help us all become better acquainted and we'll have a stronger, even more broadly based activist pool to draw from as we continue the task of building the language inside the party. Our objective is that in seven to 10 years we'll do all our internal business in Irish, Impossible? Well it was Gerry Adams himself who said recently at a language event in Stormont celebrating the birthday of Bobby Sands: "If anyone says they do not have time for the Irish language they are saying they don't have time for this struggle." Who among our activists is going to say this?