20 July 2006 Edition
Workers' rights: TD uncovers abuse of South African workers
BY Justin Moran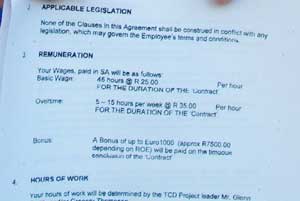 Workers' rights: TD uncovers abuse of South African workers
Exploitation exposed
Sinn Féin has exposed another example of exploitation of foreign workers by Irish companies. Following up on investigative work carried out by Sinn Féin Donegal county councillor Thomas Pringle, the party's spokesperson on Workers' Rights, Arthur Morgan TD exposed the abuse of South African workers employed on a government-funded contract to retro-fit seatbelts on Bus Éireann buses.
"Over a dozen men are working at sites in Dublin, Donegal, Rosslare, Cork and Athlone", Morgan told An Phoblacht.
"I have examined copies of their contracts and bank statements and there is clear evidence that they are being paid far below the minimum wage. They are being paid 25 South African Rand (approx €2.50) per hour with their salaries lodged into bank accounts in South Africa. They also receive €20 a day for food."
The workers are employed by a South African company called Proseat. This company is working as a sub-contractor for Irish firm Transport Component Distributors, which won the contract from Bus Éireann. As well as violation of their right to a minimum wage, there are a range of other violations of employment law taking place.
No wage slips or PPS numbers
"They have not received wage slips or PPS numbers and their work permits are being held with the company," said Morgan. "They are expected to work up to 72 hours a week including night shifts but have received no overtime pay to date.
"The company is advertising similar jobs on its website for Irish workers at a rate of €10 per hour. This is as gross an example of abuse of migrant workers I have encountered but is increasing proof that the economic growth in this state is sustained on the back of misery, inequality and exploitation."
Speaking on RTE Radio, the managing director of Transport Component Distributors, Harry Nash, denied the men were being exploited, claiming that when the €20 a day subsistence and the men's flights were taken into account, they were earning over the minimum wage.
But under the National Minimum Wage Act 2000, travel expenses, such as the cost of the flights, cannot be used in calculating the basic pay. Nash also admitted the men's overtime pay was being withheld pending completion of the contract. He further acknowledged he had no idea whether the men had been getting payslips or not.
Speaking exclusively to An Phoblacht, one of the South African workers, who asked not to be identified, said there had never been any indication their overtime would be withheld.
"The contract we signed in South Africa said we would get overtime of 35 Rand, but it said nothing about it being withheld to the end of the contract," he told An Phoblacht.
"None of us believe this claim anyway as no-one in the company is keeping track of the amount of overtime hours we have been working. One or two of the employees are trying to keep account of it but the company definitely is not.
"Another concern for us is that we do not have dates for flights home. We had been told that we would be flown home when the contract ended at the end of this month but they have just extended our contract to 20 August. We have no idea when we are going to get home. We have no plane tickets or anything like that."
Arthur Morgan has been in contact with the Department of Enterprise, Trade and Employment and made a formal complaint. The Department has since issued a statement saying they will be carrying out an investigation.
"I was also in contact with SIPTU who confirmed that the ICTU have an agreement with Bus Éireann that all contracts will meet fully with legislative requirements.
"This is a very serious case and is all the more worrying given that it involves a state company. It is not good enough for either Bus Éireann or Irish company Transport Components to say that they don't know the detail because they are not the direct employers. These men are working in Ireland fitting safety belts on Bus Éireann's fleet and both they and Transport Components have a duty to ensure that the men are treated fairly.
"It's vital that employers, who are flouting the law, get the message that labour laws have to be fully implemented without exception. Any employer in breach of labour law should receive heavy penalties and be told very clearly that they will no longer be used for state contracts.