21 July 2005 Edition
Harney's hospital bed 'fraud'
BY ROBBIE SMYTH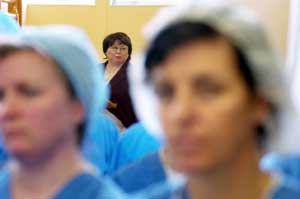 Lost 3,000 public hospital beds, found 1,000 public ones but not until another 1,000 private ones are provided first. Welcome to the new health initiative from Mary Harney. We don't know where, when or how much her plan will cost, but one thing is clear, the latest strategy from the Progressive Democrat leader is a serious deviation from the promises made by Fianna Fáil in 2001 to provide 3,000 new public hospital beds.
Meanwhile the Irish Nurses Organisation have challenged the Minister with figures saying there are nearly 500 beds that could be brought on line now and that public hospitals are facing a winter of crisis over beds.
The hospital beds crisis began with Labour's Barry Desmond in the mid-1980s, followed by Fianna Fail's Rory O'Hanlon, who as Health Ministers began to cut thousands of hospital beds out of the public hospital system.
It fell to Michael Martin in 2001 to promise to restore 3,000 public beds to the hospital system, after more than 15 years of a growing crisis, with long delays for operations, overcrowded accident and emergency rooms and patient lives needlessly in jeopardy.
To date only 780 beds have come on stream, though this figure is disputed by the Irish Hospital Consultants Association who claim that only 419 beds are actually in place. It costs up to €500,000 to provide a new hospital bed and approximately €300,000 to run that bed annually.
Harney's plan to provide extra space is simple one. She wants to move all private beds out of public hospitals; there are currently 2,500 private beds in public hospitals. This will happen by allowing developers to build new private hospitals on the grounds of public ones.
Currently in Dublin, at the Mater and St Vincent's hospitals such a system is already in operation. The new hospitals would be built with tax breaks though no costing of the plans have been provided, which is strange as the Department of Finance is supposedly currently reviewing the operation, costs and value of all tax reliefs, breaks and allowances.
It effectively means that the coalition government is endorsing the building of a two-tier health care system. It will be a system in which the private sector will still be subsidised by the public and will be able to profit through areas such as the treatment purchase scheme where the state carries the cost of medical treatment for public patients in private hospitals.
Sinn Féin TD Arthur Morgan described the Harney plan as a fraud. Morgan said, "This fraudulent plan is also being hatched at a time when the contract for hospital consultants has still not been renegotiated. A new contract has been promised since 2001, in order to ensure greater equity for public patients in hospital care, but no progress has been made. Now more private hospitals are to be subsidised by the State, allowing many consultants to continue do Nurses Organisation (INO). This week it said that currently there are 480 beds closed in the public health system that could be brought on line with minimal investment. The INO said there were consistently over 200 patients on trolleys awaiting beds during the summer months and that this number would rise during the winter. The number of trolleys should have dropped during the summer months.
The INO figures have been disputed by the Health Services Executive but that does not change the fact that it could be five years before even one of the Harney beds actually comes on line. So it is for now a case of new minister, same old problems.