21 July 2005 Edition
Communities outraged at suicide slogans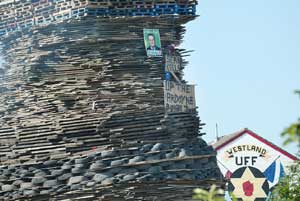 THE sheer sectarian viciousness that permeates elements of unionism was visible in all its naked cruelty on the Westland Estate in North Belfast last week. In the days before the 12th, unionists mounted a display, mocking suicide victims in nearby Ardoyne, to an Orange bonfire, funded by Belfast City Council.
A dummy was hung from the bonfire pile alongside a sign which read: 'Up the Ardoyne bungee jumpers', a crude reference to the alarming number of young people from the small nationalist enclave who have committed suicide over the last two years.
Families who lost loved ones to suicide have expressed their outrage at the unionist actions describing it as a "complete insult". Phil McTaggart, who lost a son to suicide two years ago went on to say: "This was a deliberately offensive gesture. It is also offensive to people in the Protestant community. The whole thing was completely insulting to families who have lost loved ones through suicide and seeing it made into a joke is really hurtful."
Margaret Wylie of the Mother's Hope organisation in the Shankill, which deals with suicide and depression said the bonfire was "unacceptable". "What was on the bonfire actually counteracts people coming forward, wanting to talk about their feelings. It would make people feel totally isolated and that they had been made fun of."
Adding his voice to the condemnation of the loyalist display Holy Cross Priest Father Aidan Troy said the items added mockery to the tragedy of suicide and called for all future City Hall funding for the Westland bonfire to be withdrawn.
Belfast City Council set aside up to £50,000 in grants for the organisers of loyalist bonfires, as part of an initiative to keep the sites clean, and the organisers of the Westland site were awarded £2,500.
Father Troy said he had been alerted to the bonfire's suicide slogan on Sunday evening 10 July by a lady who phoned him to express her total disgust at the mocking of the dead. "I immediately drove over to the area and notified the PSNI but the offending articles were there until all went up in flames on the eleventh night".
Troy said he had spoken to people since and there is huge anger about it. "If money is given to any community that acts like that, they should be disqualified from getting any further funding. They have disqualified themselves, nobody else has."