21 July 2005 Edition
SDLP support for plastic bullet gunmen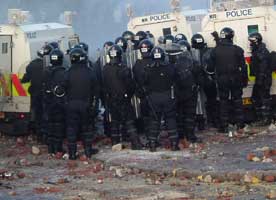 The Police Ombudsman's Office has confirmed that an investigation has been launched after the PSNI admitted to firing 22 of its new plastic baton rounds at nationalists during disturbances in Ardoyne on 12 July.
The new type plastic bullets — Attenuated Energy Projectiles (AEP), were fired during rioting after an Orange march and hundreds of loyalists were forced by the PSNI and British Army past the nationalist Ardoyne, Mountainview and Dales areas of North Belfast.
A Police Ombudsman spokesperson said that an investigation is being launched to the firing of each baton round. "Any discharge of firearms by a police officer is referred to us by the police and we will look at the circumstances leading to the discharge of baton rounds."
A 14-year-old boy and a 22-year-old man suffered leg and stomach wounds after they were struck by plastic bullets during the sustained trouble.
Plastic baton rounds had not been fired in the North since September 2002.
Sinn Féin Policing spokesperson Gerry Kelly has criticised the PSNI plastic bullet onslaught and also criticised SDLP representative Alex Attwood for praising the PSNI action.
"Plastic bullets are unacceptable and must be banned. They should have no part in policing these type riot situations. The fact that so many people were gathered in Ardoyne ensured that the firing of these lethal devices could have been nothing other than indiscriminate.
"To compound matters the PSNI clearly engaged in media management surrounding the numbers fired. Yesterday they indicated that only six were discharged and today they have revealed that 22 have been fired. We are told that this is a new improved plastic bullet, the AEP. But the reality is these devices are lethal and can kill.
"Alex Attwood of the SDLP has very publicly praised the actions of the PSNI in Ardoyne. I can only assume that this includes the use of plastic bullets. Prior to joining the Policing Board the SDLP claimed to be opposed to the use of plastic bullets. Yet while on it they have overseen the development, purchase and now use of a new generation of lethal killers.
Alex Attwood needs to explain in very clear terms to the nationalist community why he has praised this action.
Meanwhile a 35-year-old mother of three needed hospital treatment after she was bitten by a PSNI dog as she searched for her daughter during Tuesday night's trouble. Martina Osbourne said she had gone up to Ardoyne shops to find her daughter and bring her home when she was forced into a PSNI line after she was hit by a blast of water fired from a PSNI water cannon.
"I was forced up the Ardoyne Road and the PSNI came down and the water cannon began spraying water and the next thing I knew I was being attacked by a dog".
Osbourne said some man took her by the arm and ran her down the street.
"I had to go to hospital where they cleaned the wounds and gave me an injection and antibiotics".