21 July 2005 Edition
News in Brief 3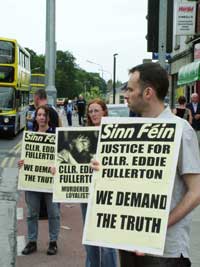 Councils back Fullerton Inquiry
A growing number of local councils have passed motions calling for a full independent public inquiry chaired by a person of international repute into the assassination of Sinn Féin Donegal County Councillor Eddie Fullerton in 1991.
Donegal County Council, Louth County Council and Kerry County Council have backed such a motion as have Castlebar, Monaghan, Letterkenny, Clonakilty, and Carrickmacross Town Councils. Many more are expected to follow in the coming months.
Compulsory ID Cards opposition
Sinn Féin National Chairperson and MEP for Dublin Mary Lou McDonald has said the party will "vigorously oppose the imposition of British identity cards in the Six Counties and the introduction of similar identity cards in the 26 Counties."
She said the Dublin Government "should be demanding that these cards are not introduced in the Six Counties never mind the 26 Counties".
She said such a move would greatly increase the power of the state over every individual while the so-called 'security services' would control a bank of information that hitherto they have only dreamed of.
Irish Ferries flag of convenience
Sinn Féin spokesperson on workers' rights Arthur Morgan TD has called on the Minister for Trade and Employment Micheál Martin to clarify the Governments position following an RTÉ Prime Time documentary revealed that Irish Ferries have registered a ship in the Bahamas. The company now seem to believe that neither Irish nor European labour laws apply to them. The result of this has been the employment of migrant workers in appaling conditions and for as little as one euro an hour. Deputy Morgan said these revelations make "a mockery out of the government's recent appointment of eleven more Labour Inspectors."