21 July 2005 Edition
Release Seán Kelly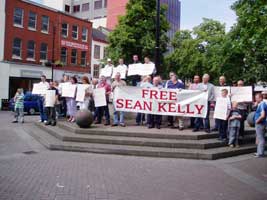 Release Seán Kelly
The internment of Ardoyne republican Seán Kelly was a provocative and destablising act. The decision by British Direct Ruler Peter Hain, makes no sense other than pandering to the anti-republican punishment-lust of DUP politicians.
Not only has the British Government allowed unionists obstruct the implementation of the Good Friday Agreement, now they are seen to act upon their whims, regardless of the consequences for wider issues.
As a political prisoner Seán Kelly was released as part of the terms of the Good Friday Agreement. Since then he has acted as a stabilising force in his local community of Ardoyne, despite the intense provocation visited upon that area by Orangemen, unofficial unionist paramilitaries and the PSNI.
The British have made a grossly unjust decision by re-imprisoning Kelly on the spurious basis that he violated the terms of his release. Not a shred of evidence has been offered to back this up.
The action against Seán Kelly stands in stark contrast to the impunity with which unionist paramilitaries continue mount bomb attacks against nationalist homes, engage in lethal feuding and flaunt their outright criminality.
The establishment media and politicians North and South have ignored this reality, while castigating republicans at every hands turn on the most spurious of grounds and without offering the slightest evidence to back up their increasingly outlandish claims. It is against this backdrop of official double standards and anti-republican witchhunts that the re-imprisonment of Seán Kelly has taken place.
Kelly's re-imprisonment has caused widespread and understandable resentment and anger in republican and nationalist areas. There are issues here for other political prisoners released under the terms of the Agreement. Many republican ex-prisoners have acted in stabilising dangerous situations in Ardoyne Dunloy, Derry and under siege from forced Orange marches and unionist paramilitary provocation. Kelly's arrest has discouraged some of those people from playing a similar role in the future.
Last week, an unwelcome Orange march was forced through Ardoyne. Those who marched were allowed to insult residents after first refusing to engage in dialogue with them. Despite this, nobody was killed even though there was potential for a terrible disaster. The Parades Commission decision made no sense. Neither does the arrest of Seán Kelly.
One can only wonder at the influence on such events of those influential securocrat elements at work within the British system who undoubtedly favour the creation of such negative scenarios.
Peter Hain is the man with the power to release Seán Kelly. He should recognise the political blunder that has been made and in the interests of justice and peace release him immediately.