21 July 2005 Edition
Release Seán Kelly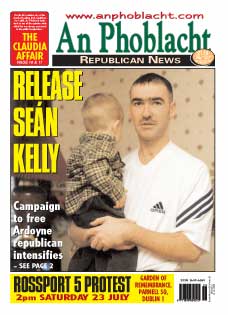 Pressure grows for Kelly's release
The campaign to have Ardoyne republican Seán Kelly released from Maghaberry Prison has intensified with pickets and protests growing in size and number across the Six Counties.
In the latest moves to secure Kelly's release Sinn Féin President Gerry Adams, Martin McGuinness and party spokesperson on policing Gerry Kelly met British Direct Ruler Peter Hain at Stormont on Monday 18 July and demanded that Kelly be freed immediately.
Speaking to journalists after the meeting Gerry Adams said: "The man should not be in prison and we made that very clear. To my knowledge no one has given evidence about why the man was put in prison."
Ardoyne-based priest Father Aidan Troy met with Seán Kelly in a pastoral capacity on 6 July and has also called for his release and questioned the rationale behind his imprisonment. Troy said there appeared to be no supporting evidence for the decision to send Kelly back to prison at all.
The priest, who has had a high profile over several events in Ardoyne, including the Holy Cross dispute, revealed that he had visited Kelly in Maghaberry Prison last week and spent one-and-a-quarter hours talking to him. "The question of his being in prison obviously arose. I had the opportunity to go through with him and the various reasons put forward for his return to prison. He told me that as far as he was concerned he had done nothing wrong and I believe him. If there is evidence that I am being misled, then present it and I will be the first to say 'I was wrong, I am sorry'.
"Anywhere I had seen him he was trying to exercise some restraint, particularly on some young people during some of the disturbances in Ardoyne. If there is evidence against Seán Kelly, it has to be in some shape or form, put into the public domain so there is confidence".
Seán Kelly was released under the terms of the Good Friday Agreement in 2000. British Direct Ruler Peter Hain revoked his license claiming Kelly had been involved in 'terrorist activity'. However Kelly's supporters are accusing Hain of bowing to pressure from unionists who had turned Kelly into a hate figure.
Nationalists are now demanding that Peter Hain demonstrate political courage and use his office to face down securocrats within the British system whose only interest is to undermine the Peace Process.
While it is procedure for prisoners released on licence and subsequently re-arrested to apply to the Sentence Review Commissioners, Seán Kelly pointed out this week he can't do this because he does not know the purported reason for his arrest. Nonetheless the NIO insists that Kelly had broken the terms of his licence. Sinn Féin has described the situation as "internment."