7 July 2005 Edition
Anger continues over Kelly arrest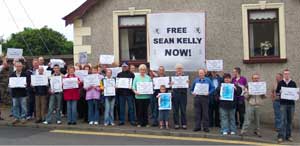 Up to 60 Sinn Féin supporters and activists picketed a meeting of the Ballymoney District Policing Partnership (DPP) in the County Antrim village of Dunloy on Thursday 30 June calling for the immediate release of the recently arrested North Belfast republican Seán Kelly.
Protestors lined the route through the County Antrim village to St Joseph's Parish Centre, where the meeting was being held, displaying placards and banners demanding Kelly's release.
Among those taking part in the protest were North Antrim MLA Philip McGuigan and Sinn Féin chair of Moyle District Council Oliver McMullan.
Meanwhile the PSNI has admitted it was contacted by the Prison Service in the Six Counties in relation to the conditions of licence given to Seán Kelly before the North Belfast republican was arrested on June 18.
Thirty-year-old Kelly who was released under the terms of the Good Friday Agreement in 2000, was arrested and imprisoned in Maghaberry Jail following a sustained campaign by senior Democratic Unionist Party members and sections of the tabloid press.
At a public session of the North's Policing Board in Belfast on Thursday 30 June PSNI Detective Chief Superintendent Noel Topping revealed the role of the Prison Service in relation to Kelly's arrest. "Following contact from the Northern Ireland Prison Service, PSNI passed to them information in it's possession relating to the conditions subject to which Seán Kelly was released from prison. Subsequently the British Direct Ruler, Peter Hain, suspended Kelly's licence and recalled him to prison".
Campaigners for Kelly's release claimed the Prison Service actions have endangered his life by contravening basic conditions of the Northern Ireland Office's segregation policy. "The news of the Prison Service's involvement raises fundamental questions about Seán Kelly's continued safety and imprisonment at the hands of the North's prison regime".
Just four days after he was returned to prison a loyalist threatened Kelly and assaulted him in a communal area of the prison.
The NIO Minister claimed Kelly had reinvolved himself with, 'terrorism', after receiving intelligence reports from British Special Branch but has refused to elaborate on how Kelly had breached his terms of release, which prompted the Taoiseach Bertie Ahern to call on his own officials to provide him with this information.
PSNI Chief Constable Hugh Orde said previously that he had no part in the process that led to Kelly's arrest, and it emerged that in a letter to Ulster Unionist Party MLA Michael Copeland that Kelly had not been under PSNI investigation for any misconduct just five days before his arrest.
The arrest of Kelly, who played a key role in keeping the calm at interfaces in North Belfast and during tense Orange parades, has led to former republican prisoners reconsidering their role in trying to prevent violence at interface areas.
Calling for Kelly's immediate release Sinn Féin's Policing spokesperson Gerry Kelly accused the British authorities of lurching from excuse to excuse in desperate attempts to justify the re-arrest of Seán Kelly.
"This shows up the farce which is the British attempts to explain away their decision to intern Seán Kelly. The fact is that there is no reason why Seán Kelly should be in jail."