7 July 2005 Edition
Thousands protest over Ros Dumhach 5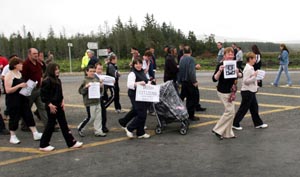 Thousands have marched, protested, picketed and occupied petrol stations, signed petitions, from Ennis, Cork, Waterford, Wicklow, Dublin, Dun Laoghaire, Meath, Louth, to Galway and Castlebar, in response to the imprisonment, by the Government at the behest of Shell, of five Mayo men from Ros Dumhach.
The five were sent to Jail, last Wednesday 29 June, indefinitely, by the High Court, on their refusal to obey an injunction, given in April to Shell, to allow the construction of a pipeline across their lands.
There were huge demonstrations in support of the Ros Dumhach 5, and in protest at the Shell Consortium's determination to process raw gas onshore, and drive a dangerous, unprecedented, high-pressure raw gas pipeline in front of their houses — a pipeline they say which represents "a bomb at the bottom of their gardens".
Sunday's protest rally in Castlebar was an amazing sight as people came from all over the county to support the families. The huge march of at least 3,000 people wound their way through the town, led by the relatives of those in jail.
Brid McGarry, who in Court earlier that week had forcefully declared her determination to resist Shell, and her willingness to go to jail in that cause, read the statement from the families.
She called on the developers, authorities and state to:Stop all illegal development in Ros Dumhach; cease all operations in Erris, onshore and offshore, pending a full hearing of the issues; Clean the gas and hydrocarbons at sea; Vindicate the Ros Dumhach 5 and expunge their criminalisation by Shell; Re-negotiate the overall deal for the Irish people; Make those responsible for the project accountable, including calling for the resignation of Noel Dempsey, Dermot Ahern and Frank Fahey who have presided over this scandalous affair.