16 September 2004 Edition
Aer Rianta break up confusion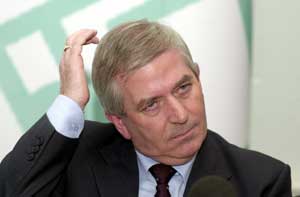 Despite concessions to unions, granted in the summer wage negotiations, the break up of Aer Rianta continues with Transport Minister Seamus Brennan sending official letters to the 12 members of the new Dublin Airport Authority.
These selected 12 will take control of Aer Rianta from 1 October and will effectively be running Dublin, Cork and Shannon airports. Cork and Shannon airports cannot be separated from the new Dublin Airport Authority until they successfully complete and have new business plans agreed by the cabinet.
There have been serious doubts raised in all quarters about whether business plans can be put together to run Cork and Shannon as stand-alone entities.
Adding to the confusion this week was Shannon Development Chief Executive Kevin Thompson. He supports an independent Shannon Airport Authority but does not want control of the Shannon Free Zone transferred to it.
Shannon Free Zone is a specially designated region covering Munster counties around the airport allowing manufacturing and other companies to avail of tax and other grant incentives.
The idea is that income from the National Technology Park, innovation centre and other industrial parks would be used to subsidise the airport's running costs. Thompson believes that transferring control of Shannon Free Zone to the airport authority would be a "disaster".
Meanwhile at the first meeting of the new Dublin Airport Authority this week Minister Brennan transferred the issue of the second terminal for Dublin Airport to the new board asking for their "urgent views". So it seems like new authority same old delays and confusion.