16 September 2004 Edition
Republican historian: The smashing of the van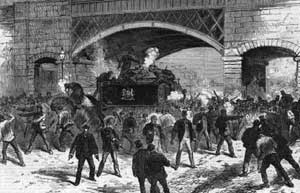 Shane MacThomáis revives An Phoblacht's weekly column marking key dates in Ireland's fight for independence.
On 11 September 1867, six months after the Fenian Rising in Ireland, the police in Manchester apprehended the acting Fenian leader Colonel Thomas J. Kelly and his associate Captain Timothy Deasy.
One week later on 18th September, 137 years ago this week, Kelly and Deasy were being transported in a prison van from court back to jail, The two Fenians were handcuffed and locked in two separate compartments inside the police van. There was also a contingent of twelve mounted policemen to escort them.
On the journey, as the van passed under a railway arch, a Fenian rescuer darted into the middle of the road, pointed a pistol at the driver and called on him to stop. At the same time, a party of about thirty Fenians leapt over a wall at the side of the road and surrounded the van and seized the horses, one of which they shot. The police, being unarmed, offered little resistance, and were soon put to flight.
After a vain attempt to burst open the van with hatchets, sledge hammers and crowbars, the rescuers called upon Police Sergeant Brett, who was inside the van with the prisoners, to open the door. Sergeant Brett refused, and thereupon one of the rescuers, a Dublin Fenian called Peter Rice, placed his revolver at the keyhole of the van and fired. At that moment Sergeant Brett had put his eye to the keyhole to see what was going on outside; the bullet passed through his eye and killed him. The door was opened when a female prisoner inside removed the keys from Brett's belt and passed them through a ventilation slit to the men outside. Colonel Kelly and Captain Deasy escaped to America to continue their fight for Ireland's independence.
Within a month of the rescue of Kelly and Deasy, five men were placed on trial for the murder of Sergeant Brett in the courthouse at Manchester. All of them were convicted. Although none of the five had fired the shot that had killed Brett, four of them had taken an active part in the rescue that led to his death. After the trial, amid much popular speculation over the justice of the sentences passed, authorities pardoned one of the prisoners and reprieved another. But on 23 November 1867 the other three men -William Philip Allen, Michael Larkin, and Michael O'Brien-were executed at Salford jail.