16 September 2004 Edition
Limerick school exclusion slammed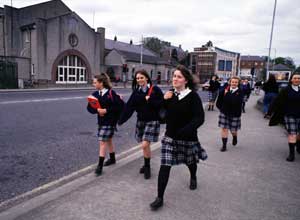 Sinn Féin in Limerick has welcomed the intervention of Education Minister Noel Dempsey in the ongoing crisis in relation to secondary school places in the City. Party representative Maurice Quinlivan said he "hoped this will see this ongoing problem resolved and it will not occur again next year. The priority must be to get the remaining children into school. The Minister will have to ensure that this situation is not allowed to continue year in, year out."
Quinlivan said there was a feeling among local people that one of the reasons for this crisis is that the schools themselves are operating a policy of selection, offering much needed places to children who live outside the catchment area and who are better served by schools in their own localities. "This amounts to discrimination against local children. Undoubtedly there is a strong public feeling that young people from less well off areas are having greater difficulty than others in accessing second level places. This clearly shows that there exists at secondary level a two-tier education system where clearly all the children of the nation are not equally cherished," said Quinlivan.
Quinlivan also called the decision to close Edmund Rice College at Hassett's Cross short-sighted and should be reconsidered in light of the severe difficulties being faced by many parents especially on the northside of the city in accessing secondary school places for their children. He told An Phoblacht:
"There is a glaring inconsistency in having state funded initiatives to combat early school leaving existing side by side with a public education sector that cannot guarantee places to the very types of students most likely to leave school early."