16 September 2004 Edition
MLA and TD to raise TCD discrimination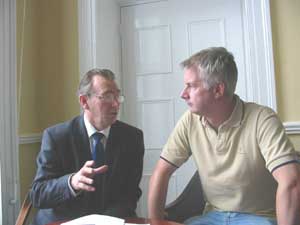 Last week Trinity College Dublin, without any prior consultation with their feeder schools and college counterparts in the Six Counties, circulated a letter to schools announcing that students seeking admission to TCD to study law and medicine, would, for this academic year 2004-2005, require results in four A-levels, instead of the normal three.
"This places students in the Six Counties at a marked disadvantage, given that their A-Level programme is a two- year course of study. Students were informed in the last academic year that only the three A-level subjects would be required for entry in these subjects," explained Michael Ferguson, MLA, Sinn Féin spokesperson on Higher Education.
The party's Education spokesperson in the Dáil, Seán Crowe TD, and Ferguson met to co-ordinate, on an all Ireland basis, their demand that this TCD decision be revoked. They will be raising the issue at their meeting on 16 September with officials of the Department of Education in the 26 Counties and the Department of Education and Learning in the Six Counties, and both elected reps intend to take the matter up with Education Minister Noel Dempsey.