16 September 2004 Edition
Anti-collusion protest blockades Strabane PSNI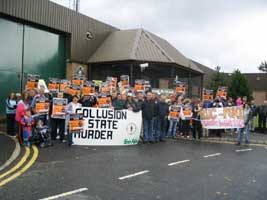 Over 100 anti-collusion protesters blocked the gates of Strabane PSNI barracks on Saturday 11th September demanding that the British government comes clean on its policy of collusion with loyalists.
Speaking after the protest Sinn Féin Councillor Brian McMahon said:
"Following the British government's blocking of the independent judicial inquiry into the murder of Pat Finucane, it is no coincidence that people like Hugh Orde and Denis Bradley have been wheeled out to tell us that we must draw a line in the sand and stop looking for retrospective inquiries.
"Collusion with loyalists was controlled and directed from the highest levels within the British government and given practical effect from RUC stations like this one. Many of those Special Branch and RUC members who were up to their necks in collusion have not only moved en-masse from the RUC into the PSNI, but now hold more senior positions within this so-called new policing service."